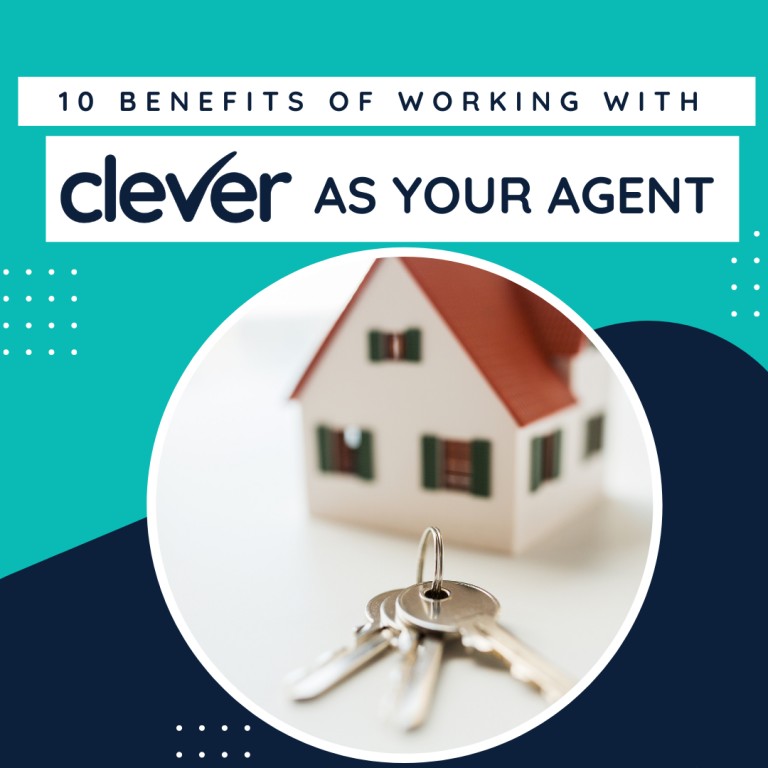 When it comes to buying a property, there are various routes in which you can go about it. Scrolling on Rightmove and Zoopla is a fun pastime for sure. But when it comes to looking to buy a property, working with us at Clever can make a big difference, as we will be sure to help you find your perfect path to homeownership. Here are ten benefits of working with clever as your agent:
1. We will get you a better price
At Clever, our negotiating skills mean that we will help you every step of the way. We can represent you accordingly, making sure you're getting your money's worth and staying within your budget. We know the areas well and what houses in your desired location have sold for, so we can keep your budget on track!
2. You will save lots of time
Working with any estate agent will save you lots of time, as we make sure to take the weight of the world off your shoulders by sorting out all the nitty-gritty details, keeping you calm and excited for your new homeowner journey ahead!
3. We are an ARLA Propertymark regulated business
Our extensive learning here at Clever never ends, and we aim to enhance our skills in every possible way we can. Having an ARLA certification is incredibly important to us, as it means our agents are properly trained and regularly re-trained to be able to handle the complexities of your investments safely and effectively.
4. Our ethics and expertise on properties
The two Es of estate agencies are fundamental to our high legal standards of work. Our expertise in pricing, finding good homes within the city that suit your individual needs best, and having knowledge of all the codes and conventions of homeownership mean you are well cared for, as we love what we do, and we do it all for you.
5. Extensive knowledge on the current market
While we heavily recommend doing your own research, it goes without saying that no one knows the current market like the people who work in the industry. Having knowledge on all areas of Plymouth and the properties that come with it, ensure that you're working with knowledgeable and reliable people that will compare and contrast current market prices with past, present and future predictions, ensuring you know what to expect in your future investments and endeavours.
6. We're motivated by our passion for properties
Here at Clever, we speak for everyone interested in renting, buying, or even investing in properties as development processes, as we see potential in every home. By working with us, you will feel at ease that you're with people passionate about the market, who want you to succeed and thrive in your own abodes.
7. We handle all the finances for you
Another important thing about working with our Clever agents is that money is the least of your worries. We make sure you're covered in all possible ways. If you're not good with numbers, fear not! We keep all investments of yours in safe hands.
8. We bridge the gap
At Clever, one of our main ethos notes is that we bridge the gap between investors and clients, buyers and sellers, etc. By working with us, your moving, buying and selling processes will run smoother than butter. We deal with property inquiries, viewings, money questions, and any FAQs yourself or others may have, so you only have to worry about when your move-in date is!
9. We sell ourselves, enhancing credibility
As experts in the property industry, we've got vast experience in selling, and as a credible company, we like to think others would agree! With over 120 years of experience, we make sure that people know who we are and why we do what we do. By being represented by us, your credibility as a seller or a buyer will increase tenfold.
10. We are well connected and networked with other agents and sellers
Finally, our connections with other agencies, thousands of individual sellers mean our analysis and communication skills are nothing short of exquisite. Why not send us an email for any inquiries you may have on buying or selling a property?
If you want to know how much your property could be worth – request a free valuation today!
By Caitlin Stimpson