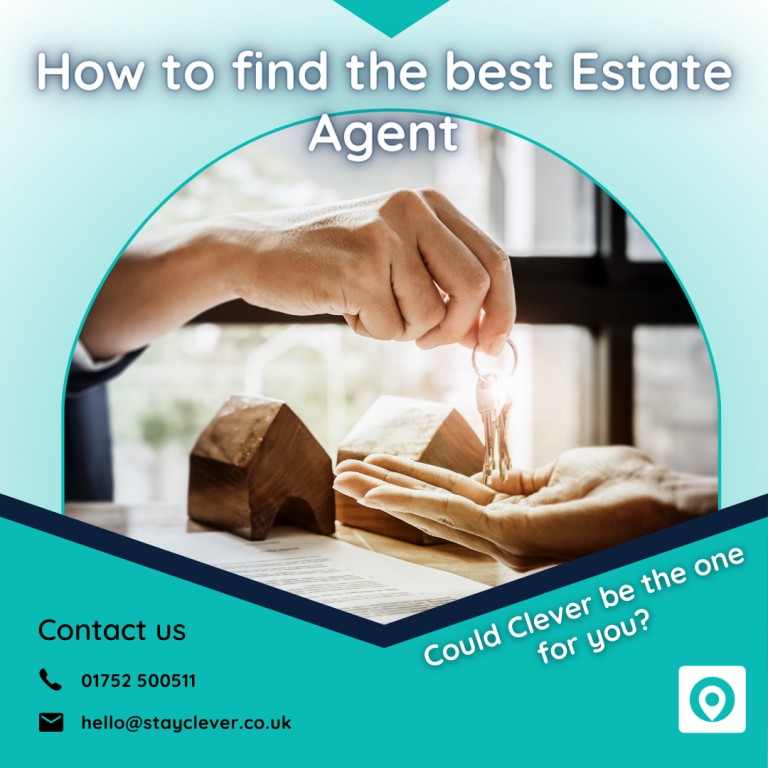 Regardless of if you're buying, selling, or renting a property, trying to find the best Estate Agent for you can often be a confusing experience. Adding in the fact that moving home is notoriously one of the most stressful things you can do, it can sometimes feel like you don't know where to begin. To aid you through this process, we want to offer advice on what you should be looking out for when choosing your agents, how to find a good fit and maybe even see if Clever is the best estate agent for you.
Ask friends/family/neighbours/colleagues
Look at the agent's marketing
Are the agents new?
Are the agents a member of an accredited Property Ombudsman Service?
Look into agency fees and deposits
What is the agent's viewing policy?
Investigate the quotes you're given
Top Tips:
1. Ask friends, family, neighbours, or colleagues
If you read reviews and question their legitimacy, then hearing positive reviews in person from the people you trust, will definitely help you narrow down the list.
2. Look at the agent's marketing
Are the agents advertising their properties across a variety of top portals such as Rightmove, Zoopla and On The Market? How are the photographs and do you feel like they are showing off the best qualities of the property?
3. Are the agents new, or do they have an abundance of experience and knowledge that you can utilise?
New doesn't mean bad, so don't let that put you off. Make sure you take some time to find out about the staff and how much combined knowledge they have. Alternatively, if the agents have been around for a while, check to see if they have new and current approaches to the market and are willing to mix things up, rather than "doing what has always been done".
4. Are they a member of an accredited Property Ombudsman Service?
Being a member of this service means that should you require it, you have access to an alternative dispute resolution, that's impartial and free!
5. Look into agency fees and deposits
Ultimately, you want to know how much each transaction is going to cost you. It's always worthwhile comparing prices to make sure you get the best deal. Also, never be afraid to query the prices and see if there is any flexibility.
6. Viewing policy
Check what time the agents are open for viewings and whether their office hours are strict. Limited viewing hours means less time for you to go and see some properties, or for people to view yours.
7. Investigate the valuation price or rental suggestions
Estate agents should have reasoning and evidence (such as local sales) to support their prices, so you should feel confident in the quotes. Some estate agents will price optimistically high to win your business!
Overall, the whole process is about finding the best fit and doing your research. So, if something doesn't feel right, don't sign any contracts until you're 100% certain it's the best decision for you!
Why should you consider Clever?
We have over 127 years of combined property experience, with over 23,000 rooms rented or sold! We're proud to promote on all three of the biggest portals: Rightmove, Zoopla and On The Market, plus we've branched out into Boomin and MoveStreets too. We're a member of an accredited Property Ombudsman Service and we're now Arla Propertymark registered, flexible with viewing times and offer competitive prices throughout the business. We also regularly research the local area, keep on top of market trends, and can provide you with accurate quotes, confidently!
Don't forget, you can request a Free Valuation from us today!
By Emma Thomas