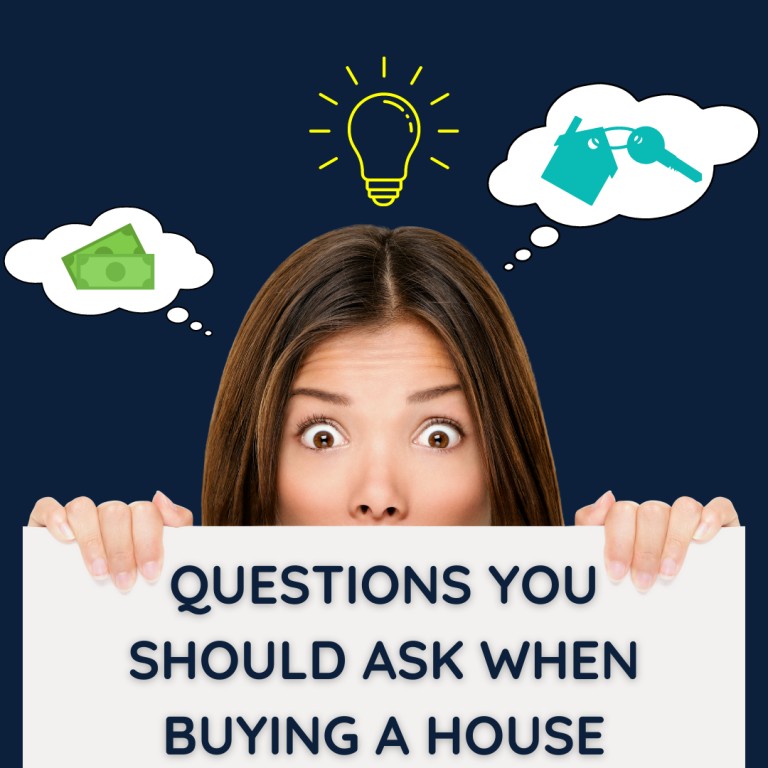 Knowing what to ask when buying a property can be tough. You want to ensure you're walking away from the situation fully informed, not more confused than ever. To help, we wanted to provide an example list of questions you might want to know before you make an offer!
1. Are there any signs of mould/damp/condensation?
Just because you can't see anything, doesn't mean it isn't there. Sellers should have a good idea of the property's condition and can update you with any ongoing issues that may be present. Signs of mould or damp can be because of, or eventually lead to structural damage, so finding out early is the best way forward!

2. Are the windows in the property single/double glazed and are the frames in good condition?
Replacing windows can be incredibly costly, so knowing the condition and age of the windows is a great starting place. The newer they are, the less likely you are to have to pay out. Double glazing will also have impacts on other aspects such as noise pollution in the property and it will impact your energy bill too. If the property is on a busy road, pay attention to how much traffic you can hear whilst on the viewing – if you love the house, you may have to get used to the noise until you can get the windows changed!

3. Do you have all of the certification ready for the property?
Knowing that all of the electrics, gas (where applicable) and plumbing for the property are compliant is vital. You need to know everything works and is safe before even considering putting in an offer, especially if the works have recently been done, for example – whole-house rewiring! This should have been provided to the estate agents by the sellers. These can be checked by surveyors, should you choose to conduct surveys on the property!

4. What is the age of the property?
Knowing this can be beneficial for a few reasons. Firstly, it gives you an indication as to the exterior condition of the property – the older the house, the more you need to pay attention to the brickwork, drains, rendering, roof, or fascia boards. Secondly, this question comes up regularly when insuring your home, so it gives you an early estimation of quotes and finally, new builds can sometimes come with teething issues, so if the property is newer, you may need to pay close attention to the works done internally too.

5. What's the parking for the property?
Unless you don't drive, knowing where to park is vital. Some properties have the benefit of their own parking space, or garage – so you will need to check boundaries and double-check it is all part of the sale and you will own the land. However, if this is not the case, knowing the roads, where you can and can't park and permits will be the next big question. Most of this information is readily available on permit lists online, however, a well-prepared agent will know this for you already!

6. Are there burglar/fire alarms in the property?
Setting these up can be quite costly, but it's always nice to have the peace of mind that the property is safe! Most properties will have some sort of fire or smoke detector set up; however, burglar alarms might be present too, in which case knowing it's all done and dusted before you move in, is just one less thing to worry about.

7. Where is the boiler and how old is it/what is its condition?
This factors in compliance again. If a boiler is located in a bedroom, it must come with a carbon monoxide alarm, just in case it malfunctions. It's also good to know in regards to sounds – if it's in the bedroom, is it a loud boiler that will be disruptive?

8. Is there much scope for adding value, such as renovation or extending?
Getting permission to extend your house isn't always that easy – however, sometimes this question has already been asked and answered, so it gives you a clear head start as to where the property can potentially grow, or not, if that is the case. Then you can decide if that's a deal-breaker. Alternatively, if it's a flipping project – what's a realistic forecast for improvements and adding value to the property? You want to make sure you're not paying over the odds!

9. What have other properties in the area gone for?
Always make sure the property is accurately priced. Valuations can sometimes hike the prices up, in order to get the best value for the sellers. A quick search on Rightmove/Zoopla can show the surrounding areas and recent sale prices, so you can make sure it is a solid investment. Feel free to ask the estate agents why they have priced the property at this rate too. They should have evidence to back up why the asking price is appropriate – if they don't…challenge them!

10. Last but not least – Is the property leasehold or freehold?
This can open up a lot more questions if the property is leasehold, such as – are there monthly charges? If yes, how much are they? How long is left on the lease and how much would it cost to renew this? Will you need to contribute to a sinking fund? Finding out as much information as possible, ensures you're fully informed and can work out accurate monthly amounts, rather than purchasing and realising it's more monthly than you can afford!
There are a whole host of other questions that can be asked, so definitely keep doing research, but hopefully this points you in the right direction and gives a good starting point. Make sure the agents are being transparent with you and never be afraid to challenge things that they say if you don't feel they're accurate.
If you're looking to buy or sell in Plymouth and could do with some extra guidance, check out some of our other blogs with tips and tricks to help you navigate the market. Alternatively, request a free valuation and we'd be happy to talk to you regarding your options!
By Emma Thomas