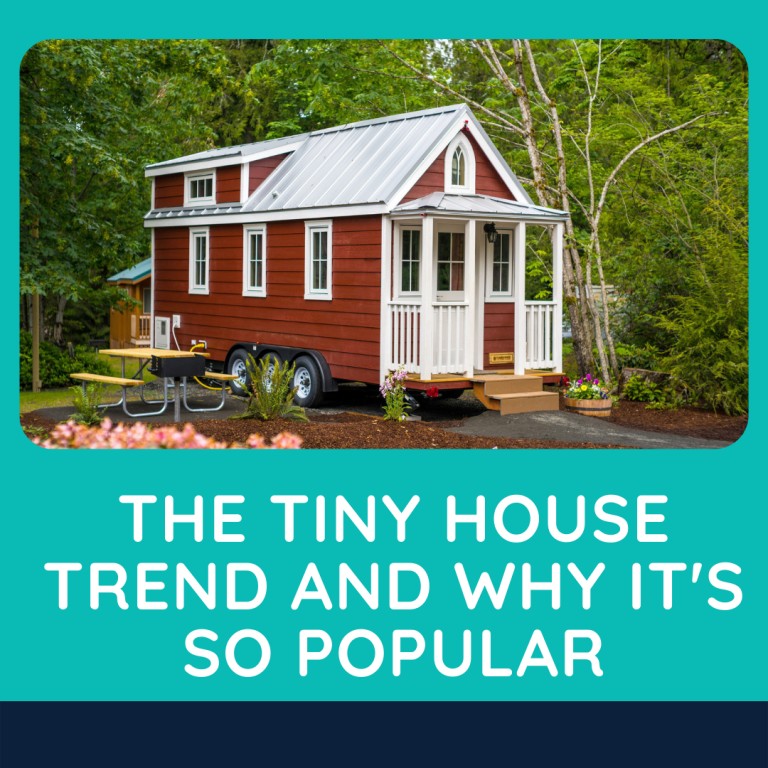 You may be wondering, what on earth is a tiny house? What's the difference between a tiny house and a caravan? Well, this blog will go into the nitty gritty of how tiny houses came to be, the popularity behind it and why it could be a great investment for you!
So, what is a tiny house?
By definition, a Tiny Home is an architectural and social movement that encourages living a minimalist lifestyle, living off grid, and generally living with less. Tiny houses are typically between 37 square meters of flooring excluding lofts. The difference between tiny homes and caravans are that Caravans are often more or less motorised, converted vans. Whereas tiny homes are constructed in a carefully curated space saving way by architects that decreases your ability to 'store' stuff you don't need but has lots of hidden quirks and storage in it. As well as this, Tiny Homes can come on wheels, but they attach to actual cars when you decide to move it, rather than having a steering wheel and pedal attachments at the front of the complex.
How did they become so popular?
Tiny Homes were popularized by Jay Shafer who designed a 96 square foot house, and then went onto founding a Tiny Home company, which came to light in 2012. They became wildly popular in 2018 and have continued to get even more popular throughout the Pandemic, with 76% more people wanting to live off grid since March 2020, according to Business Insider.
Why are people choosing to invest in Tiny Homes?
One of the main reasons people found that they wanted to live off-grid in tiny homes, is due to climate change and people becoming increasingly conscious about their waste and general energy usage. As well as this, tiny houses are a popular choice as they can come on wheels or parked (which could come with extra land costs) and of course, the 9% inflation rate which means that homeownership for the working class is becoming increasingly more unaffordable and near impossible. Many first-time buyers have stated that they would consider tiny homes as their first and main investment opportunity, perhaps the world of housing investments is about to change?
What are the costs?
What you would benefit from in terms of costs, is any money saved towards a potential 40 -year mortgage deposit, would go to entirely buying out a tiny home, personalised to your hearts content. It also offers a sense of freedom that regular homes would not be able to provide. The average costs of a Tiny house can be anywhere between £4,000 – £20,000 – which could be seen as far more reasonable and sustainable long-term.
Why don't many people invest in tiny homes?
Whilst the Pandemic saw way more people choosing to invest in the off-grid lifestyle, the percentage of people who have faced the situation and bought a tiny house in the UK are a very few amounts. There are many reasons for this, one of which could be the fact that some people see it as an unsustainable 'fad/trend' that is not useful – and if you are not of a free-spirited, minimalistic nature, it is not for you, but that is okay! Each to their own.
Overall, Tiny Homes can come with boundless benefits and quirks, but it is an investment in itself that can't be mortgaged or financed like a house or a car, so if you have got the down payment but do not want the hustle and bustle of bank loans and a mortgage to be tied down to, what are you waiting for? Whilst you're thinking of getting your new home, why not check out this blogpost we made on some space saving hacks for smaller homes!
By Caitlin Stimpson