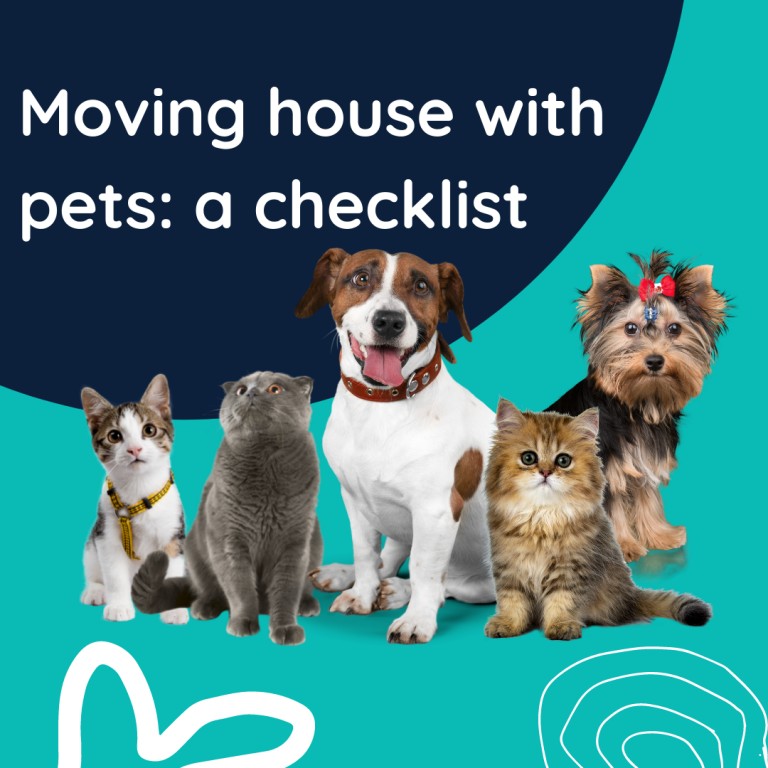 Much like children are when you're moving homes, they need routine. Hey, we get it, see our article on moving with your children here. So its no suprprise that pets need routine and communication too. When it comes to moving them into their new home, it will take time for them to get settled and adjust to the new situation. But there are lots of ways in which you can make the process easier for your pet as well as yourself. Here's a handy checklist you can refer to when preparing for the day of the move!
1. Be prepared for a change in behaviour ?
Just as you would with your human child, your furry friend will also need essentials and comfort items at the forefront of all the mess in order to tame their behaviour. Be sure to pack safety and comfort items to calm them. One crucial thing many people don't think of is training mat pads! Now, your dog may be the world's best-behaved pooch at the grand old age of 12, right? But house moves can make them very distressed, and so they are likely to have little accidents, so be prepared for some out of character behaviour from them – but don't stress, once they're settled – their normal behaviours should resume.
2. Contact your Vets ?
Make them aware of any changes you are making. If you're moving out of the area, be sure to let them know to electronically send your pets prescriptions and medical notes to wherever you're moving next. Even if you're not moving too far out of the area and are planning to stick with your current vet, it's a good idea to keep them informed about any potential changes your pet may experience during stressful times like these.
3. Keep animals away from all the business ?
While you're arguing with your partner about where they packed the kettle or telling your child for the fifth time to pack their bedroom up – make sure your pet is placed in an empty room or garden, away from all the ruckus, as this can make them very panic-driven and can even cause stress-induced sickness if their environment is being disrupted. Try to keep a quiet, peaceful side of the home available for them so that they can relax.
4. Keep your pet indoors until you are fully settled. ?
This way they can have time to adjust to their new surroundings. Let them wander places you would not normally allow, e.g., the dining room or the new sofas. Hear me out, it will settle them quicker, they will get used to new scents and unused furniture, and it also stops them from getting lost. In particular, cats are very intelligent when it comes to their street smarts. All they need is window access to the outside of their home for them to know the parameters of their home, where is safe to go and where it isn't, it really is no wonder they're in the same family as Tigers!
5. Keep as much familiarity as possible. ?
Take your rabbit's favourite hay and cabbage, your cats favourite box of cat nip, your dog's favourite comfort teddy, or even your bearded dragon's favourite dried mealworms! Incentivise them with familiar smells, toys, foods, and comfort pieces like blankets and cardigans you normally wear that remind them of you, so they know that although they're moving to a new house, you're still there for them, and thus they will settle far quicker.
Taking the time to do these small acts will ensure that your pets are as happy and healthy as they can possibly be. Why not take a look at the Stay Clever website for more tips and blogposts! And click here for a free valuation check.
By Caitlin Stimpson