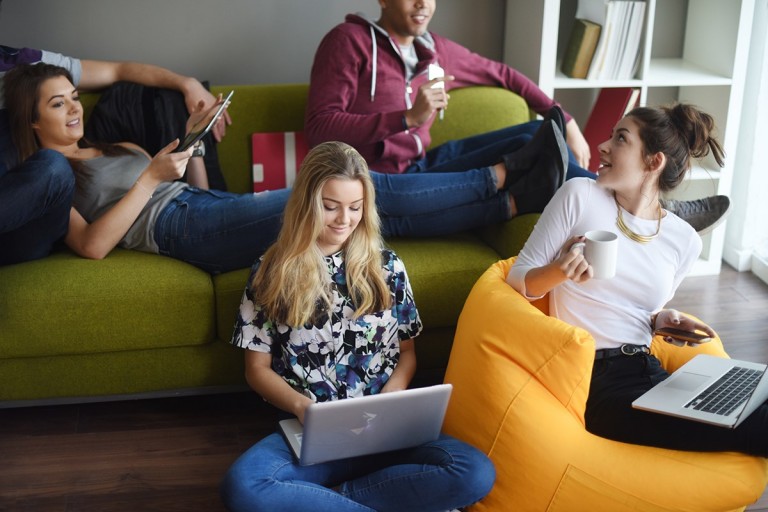 First years! Your first few terms at uni are going to be a bit of a blur…if you're doing them right! New friends, societies, exploring a new city - and that degree you're supposed to be doing - time flies. It's no surprise you're probably not thinking of next year yet, let alone where you're going to live - and we don't blame you! But whenever you're ready, here's how to make the new home hunt as stress free as possible.
We bet you can't imagine being sick of halls yet, but it could happen! A lot of students heading into second year are looking forward to finding a new place with some friends. There will be pressure building to start searching for student accommodation as early as October, and it only gets more daunting as others start looking. If you're ready to start straight away, great! If not, then this blog is definitely worth a read!
Choose who you're living with
Choose your area
Decide your essentials
Find a letting agent/landlord
Have a look
Ask a million questions
Let out your inner photographer
Have a natter
Say yes
Get going
1. Choose who you're living with
Probably the most important decision you will make about next year is who you want to live with! Maybe you fall into a perfect group of friends who all agree on the perfect way to stack a dishwasher - but not everyone is so lucky...or dishwasher efficient.
One thing to think about is how busy you want your house. Are you looking for a crazy party den where you wake up in the garden every morning with a cone on your head? Or a quiet cozy retreat to study for, y'know, that degree you're here for? This will help you consider how many you're wanting to live with, and maybe the type of mates you're choosing.
Also consider your flatmates from halls and the habits they had that may have caused tension. Can you handle another year of mouldy fridges? If you're a bit of a clean freak it's probably not a good idea to live with your sports friends that dry themselves with their flatmate's tea towel.
Not sure of who you want? Consider your societies, you'll definitely have things in common! Or your first-year housemates (if you're not sick of them yet - we won't tell). If you're thinking of living with course mates.
Remember that living and working together is a lot of time to spend with someoneso make sure you're besties!
2. Choose your area
You can find the perfect house, but if it's hours away from campus it might not be the best option. The area where you live is massively important! Proximity to your university is an important thing to consider. Are you happy with a 9am trip to campus? Or are you more the 'roll out of bed at 3 minutes to' type? You'll probably be looking in places that have a lot of students already living there, and students normally bring noise. If you want excitement (and an invitation to afters) then being surrounded by other students is probably a good idea for you. However, living on the outskirts is a good plan if you want a peaceful retreat after lectures. If you're happy with a long trek home from the night out, maybe a quieter area out of the city centre will suffice. Just don't forget about your uber fees! It's also a good idea to have a look around the area to see your local shops. The trip to pick up some milk in your dressing gown is a lot more awkward if you need to get on a bus to get ther
3. Decide your essentials
Do you want a garden for some summer BBQs? Want a nice kitchen to pretend you're on Bake Off? Need a bathtub to destress after lectures? Sit down with your housemates and choose your deal-breakers and wants from your house. This lays good foundations for when the hunt begins.
4. Find a letting agent/landlord
Private landlords can sometimes offer more flexibility in negotiations, but letting agents offer that extra band of security and insurance between you and the owner. Have a chat with your housemates and see what you'd prefer. Whoever you choose, make sure to be friendly from the beginning - they might be the one you'll be calling when you're locked out at 4am.
5. Have a look!
Once you have a list of a couple of choices, it's time to have a look around! It's a very exciting time, just don't get caught up in the drama! Go in prepared to make the most of it.
6. Ask a million questions
The agents are there to help you! Either while being shown around or after, get some questions from all of you to figure out the finer details. Are bills included in the rent or are you sorting them? What deposits are taken before you move in? What furniture will it come with? Who should you call in emergencies? Is there parking or do you need permits?
7. Let out your inner photographer
When you're looking around, take pictures of everything, make sure when you get back that you didn't miss anything. Also, the folks back home are going to want to see! You know that mum knows best - so make sure to get their advice. Also, you may need your parents if your agent asks for a guarantor. They'll be there to make sure you pay your bills, as weirdly students have a reputation for not being great with money, not sure why…
8. Have a natter
During the search, it's so important to communicate with your housemates. Maybe you all have your hearts set on the same house, or maybe you should chat and compare after every viewing to decide the front runner.
Some agreements you may need to talk about is who wants to handle the bills, or if it should be a group effort.
If the house you choose has a box room, you might want to bring up if the person in there should have a couple of quid knocked off their rent for pulling the short straw.
9. Say yes!
After you've decided with your housemates, tell your agent that you're in! Celebrate with a pint and start up your room décor Pinterest board from last year.
10. Get going
Choose a date to pick your keys up, make sure the landlord or agent has sorted any repairs or cleaning needed, get your guarantor sorted and pack yourselves up. Your next journey is about to begin!
We know this is a whole lot to wrap your head around, but you've gotten to the end, so you're now a house hunting expert! Get out there and show off those skills, and good luck!