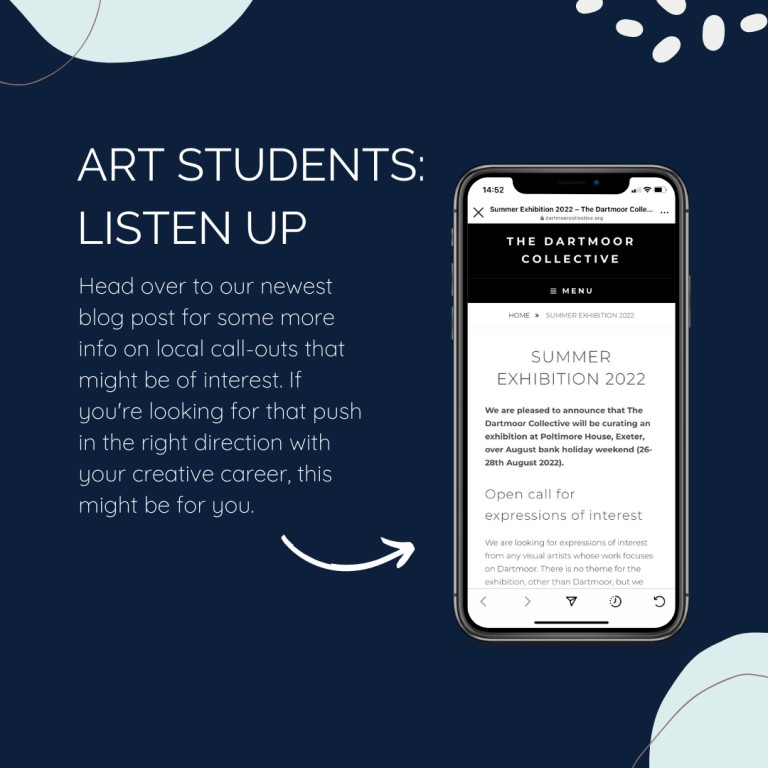 Plymouth is gradually becoming a hugely welcoming creative hub for students looking to develop a practice whilst studying. Because of this, there's always new opportunities popping up weekly that are great for boosting engagement and furthering prospective career goals. At the moment there's a few things happening locally that might be of interest to Plymouth students with a focus on arts practices. Read on to find some opportunities and exhibition open calls that might suit you and your goals going forward.
The Dartmoor Collective
There is currently an open call that the Dartmoor Collective are running for artists whose current work focuses on Dartmoor as a subject. A heavy focus is on the artist to discuss their topic past that, but if you feel that this kind of call out fits you, there's a chance to apply via the link in their Instagram bio. The call will lead artists to an exhibition in August, taking place at Poltimore House in Exeter, a beautiful grade II listed Tudor building that is a perfect space for an exhibition like this one.
There is a strong encouragement for everyone of all skill sets and stages in their creative journey to apply, so long as the work focuses on Dartmoor.
Opportunities like this are essential for local artists that are trying to break into the scene but are slightly unsure where to start. I think this one in particular is great for helping to ease into the community and develop some great connections.
National Marine Park
Plymouth Sound is home to the UK's first and only National Marine Park (NMP) and they're commissioning a local artist to help them celebrate that. There's now a callout to create a large-scale and eye-catching artwork in the area to promote the NMP, which is where our wonderfully talented artists of Plymouth come in.
You can apply for this commission via their website, where the full information for the opportunity is available. It's a great chance to make some work based on our marine life, naval history, or our general closeness to the sea. It's a great opportunity for local art students that might want to branch out creatively with the opportunities that they're seeking.
As far as local opportunities go, to create a large-scale piece on a hoarding in Plymouth would be incredible. To showcase our pride in having our very own Marine Park, it would make a brilliant addition to anyone's repertoire of completed commissions. If you have an idea in mind, get applying asap!
So, there's two large scale open calls that are currently happening for locals, and we'd absolutely recommend getting involved. There are so many opportunities that can come from these callouts and we're ready to support our talented students that might want to apply! Whilst you're here, fancy doing something over the jubilee weekend?