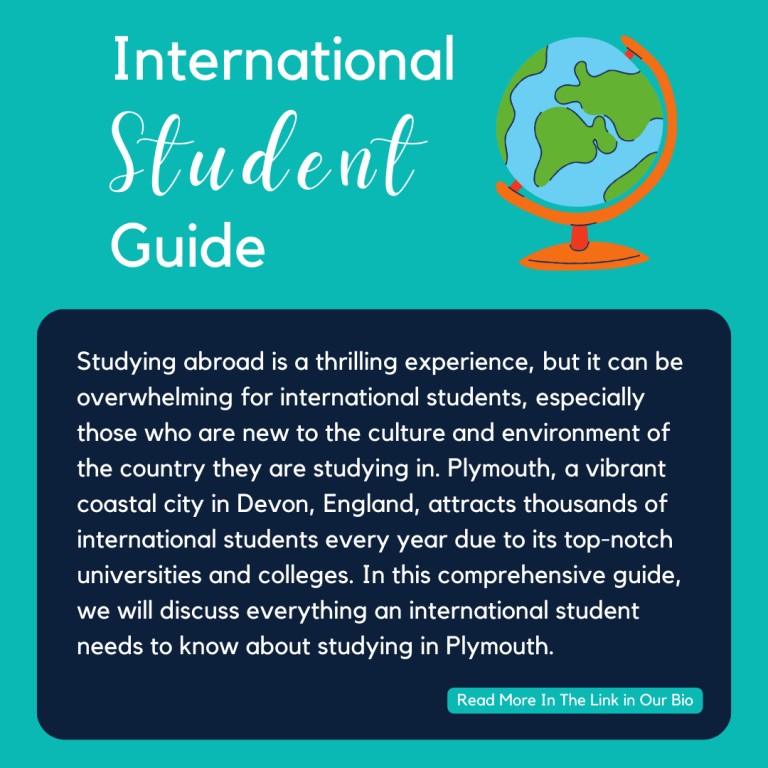 International Student Studying in Plymouth: A Comprehensive Guide
Studying abroad is a thrilling experience, but it can be overwhelming for international students, especially those who are new to the culture and environment of the country they are studying in. Plymouth, a vibrant coastal city in Devon, England, attracts thousands of international students every year due to its top-notch universities and colleges. In this comprehensive guide, we will discuss everything an international student needs to know about studying in Plymouth.
1. Why Choose Plymouth?
Plymouth is an excellent destination for international students for several reasons. The city has a thriving student community, with over 30,000 students enrolled in its universities and colleges. Plymouth offers a diverse range of courses, including science, engineering, business, arts, and humanities. The city is also known for its rich history, stunning coastline, and vibrant culture.
2. Preparing for the Move: What to Expect
Moving to a new country can be daunting, but with proper preparation, it can be a smooth process. Before arriving in Plymouth, international students should research visa requirements, healthcare, and accommodation options (ours are the best!).
3. Student Accommodation Options in Plymouth
There are several student accommodation options in Plymouth, including university-owned halls of residence and private student housing. University-owned halls of residence offer a convenient and social living environment, while private student housing provides more independence and flexibility. See our full range of student properties here:https://www.stayclever.co.uk/search/?showstc=off&showsold=off&instruction_type=Letting&bid=1&maxprice=&property_type=!office
4. Navigating the Education System in Plymouth
The education system in Plymouth is known for its quality and diversity. Plymouth has three universities, the University of Plymouth, Plymouth Marjon University, Arts University Plymouth and several colleges. The academic year typically runs from September to June, with breaks in December and April. International students should familiarize themselves with the grading system and academic expectations.
5. Financing Your Education in Plymouth
Studying in Plymouth can be expensive, but there are several funding options available to international students. Scholarships and bursaries are available for high-achieving students, and part-time jobs and internships can help cover living expenses.
6. Part-Time Jobs and Internships for International Students in Plymouth
International students in Plymouth can work part-time for up to 20 hours per week during term time and full-time during holidays. Part-time jobs can help cover living expenses and provide valuable work experience. Plymouth also offers internships and work placements in a range of industries.
7. Transportation in Plymouth: How to Get Around
Plymouth has an extensive public transportation system, including buses, trains, and ferries. Students can purchase discounted bus passes and railcards to save money on transportation. Plymouth is also a bike-friendly city, with several cycle routes and rental services available. Including the newly fitted Beryl Bikes! See details on them here:https://www.stayclever.co.uk/articles/general/beryl-ebikes-in-the-city.html
8. Exploring Plymouth: Places to Visit and Things to Do
Plymouth offers a range of attractions and activities for international students to explore. The city's stunning coastline is perfect for water sports, and there are several beaches, such as Bovisand Beach and Wembury Beach, that are popular among locals and tourists. The National Marine Aquarium, the Plymouth Hoe, and the Royal Citadel are other popular attractions.
9. Connecting with Other International Students in Plymouth
Connecting with other international students is a great way to make friends and expand your network in Plymouth. The universities and colleges in Plymouth have several student societies and clubs that cater to different interests and nationalities. Social media groups and events are also great ways to meet other international students.
10. Safety and Security in Plymouth
Plymouth is a safe city, but it is essential to take precautions to ensure personal safety. Students should avoid walking alone late at night, and they should keep their valuables secure. The universities and colleges in Plymouth have dedicated security teams that can provide assistance if needed.
11. Tips for Making the Most of Your Time in Plymouth
Studying abroad is a unique opportunity to learn, grow, and experience new things. To make the most of your time in Plymouth, it is essential to stay open-minded, explore the city, and participate in activities and events. Getting involved in the student community and engaging with the local culture can help you have a memorable and fulfilling experience.
12. Conclusion
Studying in Plymouth is an exciting and enriching experience for international students. The city offers excellent academic programs, diverse student communities, and a vibrant culture. By preparing for the move, familiarizing yourself with the education system, and connecting with other international students, you can have a successful and enjoyable experience in Plymouth.