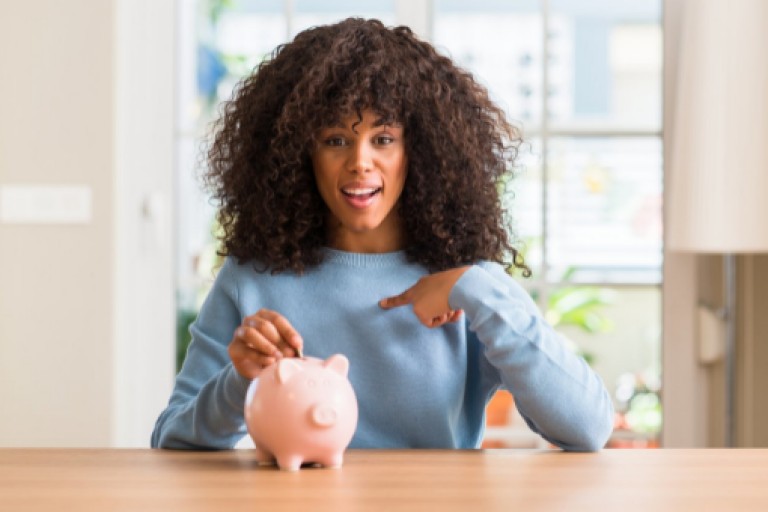 Have champagne taste with an own-brand beer budget? Don't worry, it's really the norm for university students to be having to live modestly. So, if you have a fiver to your name with 2 socials, 3 nights out and a week's shopping to fund, you might find yourself a bit out of your depth. Money is (unfortunately) probably always going to be a problem at uni, so it's a good idea to learn to manage your finances to limit the stressed calls home asking how to find the cheapest beans in Aldi.
This is likely your first time living away from home. When you add your new freedom to a big lump of cash in your bank account at the start of the semester, there comes the urge for impulse buys and luxury nights out. We don't need to remind you that it might be a bad idea…
So, if you've never heard of a budget and the idea of calming down the Amazon sprees makes you want to cry, here's some thrifty tips to make the most of the uni experience without coming out with a serious debt hangover.
Make a big batch of food and freeze it
It's cheap, it's healthy, and it means you always have food ready, so you have more time to procrastinate without thinking about cooking. Give yourself a couple hours to buy some cheap bulk food and portion it out. Load up your freezer and stop with the takeaways, because really when did you use the kitchen for anything other than heating up last night's pizza?
Prep like a Year 6
Take a packed lunch onto campus and bring your favourite coffee in a flask. Pass our apologies to your coffee shop but it will be cheaper than buying everything on campus. Even just a Tupperware with last night's Chinese is cheaper than any meal deal.
Meal plan like a gym rat
Don't worry- we're not saying it has to be healthy! It might be a good idea to get some old reliable dinner ideas in the bank and get the ingredients sorted on the cheap. Heading into the shop with a list will help you cut down on buying on a whim- and maybe limit the ready meals. It might help you learn to cook too…
Share the burden
If you have similar meals to your flatmates (and you get on with them…) maybe sort out cooking between you all, to save more on ingredients and save yourself the trouble. Also helps if they're better cooks than you!
Look after your belongings
Smashed your phone after a few too many? Ripped your dress jumping out the uber? It might be an initial reaction to throw a strop and start looking online but calm the mouse and consider investing in a needle and thread or finding a local phone repair shop. After all, a sewing kit is cheaper than a year's worth of ASOS orders.
Get your pedal on
If you're a bit off campus, you could be surprised how quickly the transport costs can add up. The hungover uber rides when you forgot you had a 9am will drain your account faster than you could
say 'rideshare'; so, the savvy student may think about investing in a bike to get to uni on time- and maybe save yourself the gym prices.
Go out on student nights
All the fun for a tenth of the price by ditching your Saturday night out for a Wednesday. Clubs know you're skint so will let you have a cheaper night- with the payment of being hungover on a weekday. So, if you can handle that compromise, your bank balance will thank you. After a couple of nights to get used to it, you'll wince at having to pay entry ever again…but doesn't mean you can afford not to pre-drink!
Pre-Drink
An own brand bottle of booze and some cheap lemonade will last you for way more nights than you'll expect. If you play it right, you won't have to buy drinks for the rest of the night! Grab your mates and a pack of cards and make sure you're all a good level of tipsy before you head on out. If you play it right, you'll have more fun at the pres than you will for the rest of the night, however this goes without saying to drink responsibly. Whenever you go out with friends there should always be an allocated sober..ish friend to look after the pack.
Get a TOTUM card
TOTUM have discounts for loads of shops and websites all on one card, making it a really useful addition to your wallet. It's a little cost to get started but hugely worth it if you make the most of it, just don't use it as an excuse to spend money on things you don't need…
It can also serve as an ID card to save you losing your licence or passport out on the town!
Add to your screen time in a good way
There are now loads of budgeting and money tracking apps to help you get a hold of your finances. Have a look at what your frugal mates are using and see which suits you the best. Even your banking app could have add-ons to save you even more energy!
One that might be good to look at is the Hold App, that rewards you points for every 20 minutes you don't use your phone in the daytime. These points can be discounts or in-store cash, so you can earn money to actually put your phone down and start working, you know you need to!
And there you go! You're now a savvy saver with the ability to stretch a loan payment for years. Give you a tin of beans and a budget plan and you can take over the world, just don't forget to treat yourself every now and again, maybe just at Poundland instead of Louis Vuitton….