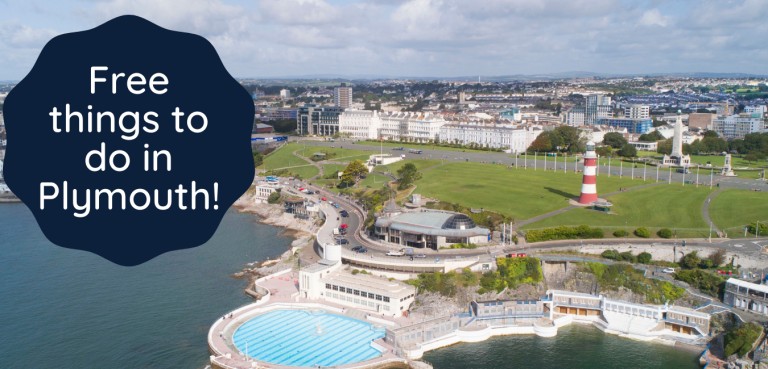 We're sure you're all excited about your move to explore your new home! No matter what school you're heading to, there's the same warm welcome waiting when you arrive.
However, we know it's not the easiest balancing a student budget for the first time- so if you've already lost your loan on pints and takeaways, there's no judgement here! Here's a few ideas that could hopefully tide you over until it naturally happens again. After all, everyone loves a freebie...
Picnic On The Hoe
If you don't have a picture in front of Smeaton's Tower, how would people know you're in Plymouth? While the sun's still with us, why not take your flatmates and a couple of sandwiches to gossip about the neighbours and admire the views for a relaxing day in the sun. Just mind the seagulls...
Treat Your Flat To A Movie Night
Any of you movie lovers out there know that watching at home is really where it's at. I mean, why go out to watch a film when you could stay in your PJs and never have to move? From the comfort of your own home, miss the queues and overpriced popcorn for a cozy sofa and no annoying packet rustlers. Grab a free trial on Now TV and binge a new show with your flatmates, or host a watching party and gather around a new movie together. We'll bring the popcorn...
Free Cinema Trip
Not feeling like a night in? We can't blame you after this year. Lucky for you, members of the E4 slackers club get free movie tickets every month, so treat yourself to a big screen experience. (because we all know- sometimes- getting out of your PJs is worth it).
The Box
Want to meet a woolly mammoth? Of course you do. This huge museum offers free entry to everyone all year round. Whether you're a history buff or an art enthusiast, there's something for everyone to soak up some culture. Also keep your eye out for the exciting events they put on to make the trip even better!
Have A Day At The Beach
Looking for some peace and quiet? Or wanting to take the plunge and have a swim in Wembury Bay? Either way, there's stunning views and after the walk you've definitely earned an ice cream! We know heavy nights out on the town are a given, but during the hungover mornings there's nothing better to sober you up than a sea breeze!
Browse At The Market
Crammed with bustling food stalls and free beauty advice, this massive 140 stall market is as close to central as you could get, why not go to soak up the atmosphere- and make a shopping list to grab some bargains when loan day comes around?
With all these and so much more to do, we guarantee Plymouth is anything but boring. Here's your chance to have a real explore of Plymouth and take part in everything that the city has to offer- while staying on the cheap. Let us know how you get on!