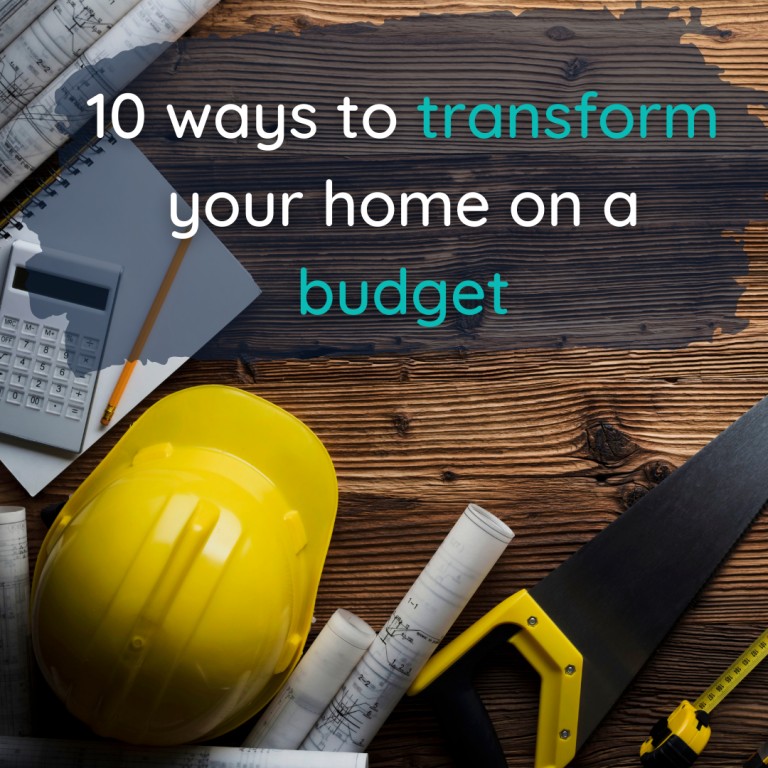 Whether you want to sell your home and you're looking for cheap renovation inspiration, you want to make non-permanent alterations to a rental, or you just want to make your house feel more like a home and match your vibe, we've got some tips on how to do this cheaply but efficiently!

• Shelving
• Reupholster
• Peel and stick wallpaper
• Adhesive floor tiles
• Door repainting/replacing
• Showerhead
• Curtains/Accent cushions
• Feature wall
• Rugs
• Lighting
1. Shelving
Shelves can make such a huge difference to a property and provide extra storage or display space. They are effortless to install and even if you're in rented accommodation, it is easy enough to return the property to its previous state – or bonus, the landlord may want to keep the shelves in place so you don't have to lift another finger! You can also have some fun with different aesthetics, shapes, woods and with so many different ways to style them, you can get really creative!

2. Reupholster
Now, this one we wouldn't recommend if you're in rented – the landlord probably wouldn't take too kindly to you tearing up their sofa…However, if you have changed the whole vibe of your home and can't afford a new sofa or chairs, reupholstering is a cheap way to completely change your colour scheme. With plenty of YouTube channels dedicated to upholstering, you'll definitely have a lot of video guidance too.

3. Peel and stick wallpaper
Ever look at amazing feature walls and it just makes you sad about your bog-standard magnolia? We feel you. With peel and stick wallpaper, you can change the whole room and pull it down whenever you leave or have a change of heart. Best of all, it can be done on a budget, there are a huge variety of patterns available and it causes no damage if done properly!

4. Adhesive floor tiles
As with peel and stick wallpaper, you can now get adhesive floor tiles! Replacing your floor outright can be incredibly costly, however, with these adhesive tiles, you'd never know the difference. Again, with a variety of styles and patterns available, you're really spoilt for choice. You can get waterproof versions for longevity and they're as easy to take up as they are to put down, so you can change the design to your heart's content.

5. Door painting/replacing
People forget how much of an eyesore an old door can be. Whether it is your front door or an interior one, scruffy paint can make a huge difference. If you have the budget to replace your doors, then that's great, however, if you want to pack a punch as cheaply as possible, a pot of paint for £30, in comparison to hundreds for a new door will absolutely do the trick! You can get creative with the colours and bring a whole new lease of life into your home. Even if you stick with white, the freshness will really stand out!

6. Showerhead
This may seem really small and insignificant; however, a dated or mouldy showerhead will decrease the value of your bathroom more than you realise. Plus, there are some beautiful showerheads now, that are a real statement piece and they don't have to cost the earth. I'm sure you've seen the filter beads that really pop – well not only do they come with benefits such as reducing the bacteria that can reside in showerheads, but they also look stunning and bring a new lease of life into your bathroom décor.

7. Curtains/Accent cushions
If you really fancy a change but you don't have a huge budget, it's amazing what a difference a pop of colour can make, whether that's a bold curtain, or some patterned cushions. They can tie together a room, change your aesthetic completely and provide that extra level and appearance of comfort.

8. Feature wall
Now some may say that feature walls are dead, however, a bold pop of appropriately placed colour, whether it's over a fireplace, or in an alcove, can make a huge statement! It's also way less fiddly than wallpaper and usually cheaper too!

9. Rugs
Maybe you hate your carpet and don't have enough money to replace it? Alternatively, you could have hardwood flooring that you love, but want to add a pop of colour and a bit of warmth. Regardless, rugs are your friend! With an endless variety of styles, shapes and sizes, ample patterns to choose from and a varied budget to suit all financial situations, it's the perfect simple, strategic touch to any home.

10. Lighting
Standard lampshades are on the way out. People are getting way more creative with lighting now and it can completely change a space. Now don't get me wrong, some of these can be costly! However, as a one-off investment, especially if you're looking to sell, it can make a huge difference. Not only that, but brighter or warmer lightbulbs can change the vibe completely and make your home feel much more welcoming.
Hopefully this has given you some inspiration, alternatively, you can check out our other blogs on what 3 rooms sell your house and how to stage them! Alternatively, if you've done some renovation and want to get a Free Valuation, let us know!