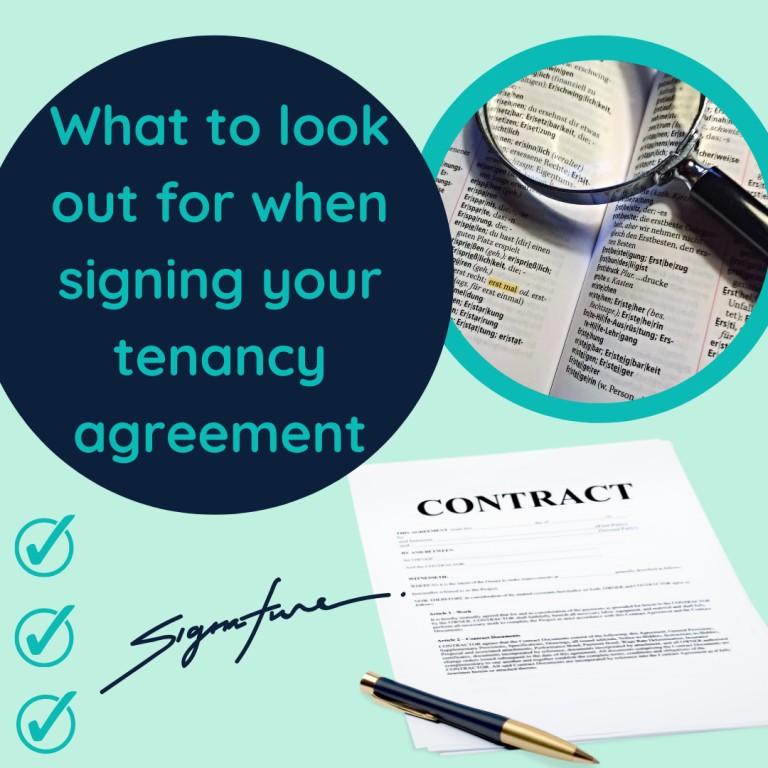 However scary it may seem or sound, you should never reside at a property without signing a tenancy agreement. If you've never signed one before, it might sound quite scary, but rest assured – it's quite simple, really. But there are some key things you'll need to look out for:
1. The type of tenancy agreement
The type of tenancy agreement that you sign should always be clarified beforehand. For example, if you're moving in alone, then you will have an individual tenancy agreement, meaning you will be held liable for anything that could potentially go wrong with your tenancy. Whereas if you go with a joint tenancy agreement, you, and the group of people you are living with (whether that be friends or a partner) are held equally as responsible. Knowing what type of tenancy, you're signing up for is a crucial part of the signing process!
2. The small print
Making sure that you're reading the small print is so important! The small print will include the details you need to make sure that you read before signing that piece of paper. Check the start date and end date of your tenancy, that every tenant's name is on the contract as well as the landlord's. And most importantly, look at your obligations in detail (what you can and can't do during your time in the accommodation) and make sure you agree on everything. Check the rent amounts and ensure that the contract allows for general wear and tear of the property. And finally, check for any agreed repairs you want your landlord to do before/as soon as you move in (e.g., washing machine replacement, fixing leaky taps, and so on).
3. Deposit protection schemes
Deposit protection schemes are one of the safest ways to ensure that your rental deposit is kept safe and used only if needed at the end of your tenancy. Using DPS (the most common deposit protection scheme in the UK) you can rest assured that your deposit is kept safe and able to dispute if necessary.
4. Inventory
Inventory is another key thing to consider. In every tenancy agreement, you should find that there is a checklist of sorts accompanied by images of your home, with lists of what is included and how the property has been left. This allows the tenant to look through the home and the inventory to check everything is as to how it says it is, to then sign it off. This gives both tenants and landlords a more accurate and up-to-date depiction of the state of the property.
5. Legionnaires' disease
Legionnaires' disease is something not many people know about. I mean hey, I only knew about when I rented my first property fresh out of university! But it's an important one to look out for on the 'ol tenancy agreement. Legionnaires' is an atypical form of pneumonia that is very fatal to humans. It can form if contracted – and it comes from contaminated sources of bacteria from faulty appliances. (For example, fridges) By having a legionnaires' disease check, you know you are safe in the property you are about to sign an agreement for.
6. Compliance
Finally, you need to look out for compliance checks such as gas safety certificates, pat testing, carbon monoxide testing where appropriate etc. This is a basic compliance regulation that will be within your tenancy documents. This is another legal requirement for all landlords that ensure your gas and electric performance and safety levels are all up to scratch.
Now you know all about what to look for in your tenancy agreement, why not take a look at Clever's overview guide to your first tenancy?