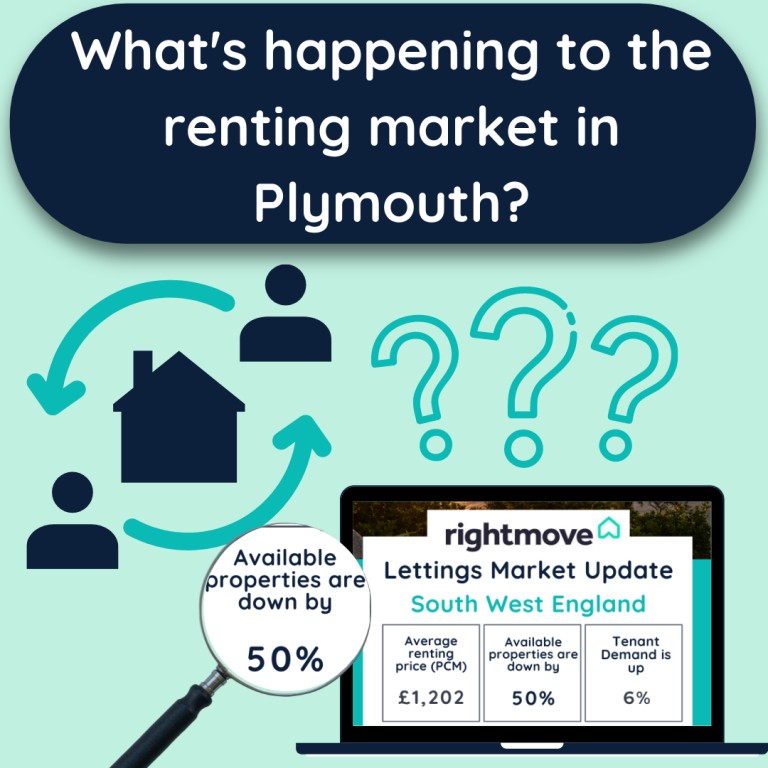 Rightmove recently showed their most recent Lettings Market Report, and the statistics have shown both a dramatic decrease in available houses as well as an increase for demand in renting.
While we can't give specific details for Plymouth, the headlines for the South West of England show that:
1. The rent prices in the general Southwest of England are currently around £1,220 GBP per month on average.
2. There is a 1.9% increase in rents since the last quarter.
3. There is a 12.2% increase in rent prices in comparison to 2021.
4. There is a 4.2% average in yield of landlords in the Southwest.
Asking rents are now officially the most competitive they have ever been and are now officially 15% higher than they were which is why it is completely understandable that there is a 6% rise in demand for housing for renters.
While there is a very apparent mismatch between the yield and demand of housing – it isn't exactly certain what this could mean for landlords and tenants in the future, as the property market forever ebbs and flows. There is, however, comparative data to make predictions of what is to come, and it is not all worrisome, for you fellow renters out there.
Rightmove says that "there are more than triple the number of tenants enquiring as there are rental properties available, meaning a high likelihood of landlords being able to choose between multiple suitable tenants."
Despite the annual asking renting price being the highest it's ever been, this could potentially be positive in terms of stock. There are now 5% more properties available nationally since January of this year. (2022)
As asking rents increase across Great Britain, with nine regions recording a more than 10% rise in asking rents compared to last year, demand is growing for areas outside of price hotspots that offer the opportunity of lower rents, while still being in commuting distance of the major cities for work or leisure.
What does this mean for the potential future of the renting market for tenants?
It could mean that if the rental market continues the way that it is, then landlords have more of a choice in choosing their 'ideal tenants' and therefore the renting process may become more corporate and interview-like for those searching for temporary homes.
Something worth noting though, is that in Plymouth specifically, more accommodation and housing are getting funding and constructions within Plymouth's city centre are increasing as the years ago by – and with Plymouth's new dockyard creating new jobs and therefore new potential Plymouth residents, a new housing development is underway. According to Babcock, "the peak construction time is likely to be between late 2022 and the start of 2025. Documents submitted to the council said the dockyard employs 5,500 people and generates about 10% of Plymouth's income."
With this being noted, this should help take some of the pressure off the competitive nature of housing in 2022, but it could go either way.
The housing market may also crash. I know, its sounds like a broken record for tenants out there, but many factors as of late are making this more possible. Such as the impact of 30-year consumer inflation and the ever-rising cost of living, the pandemic, consumer confidence and so on.
Overall, it could mean a multitude of things, some for better, some for worse. What do you think is going to happen?
While you're observing the market and ever-changing trends, why not have a read of our easy moving hacks!
By Caitlin Stimpson