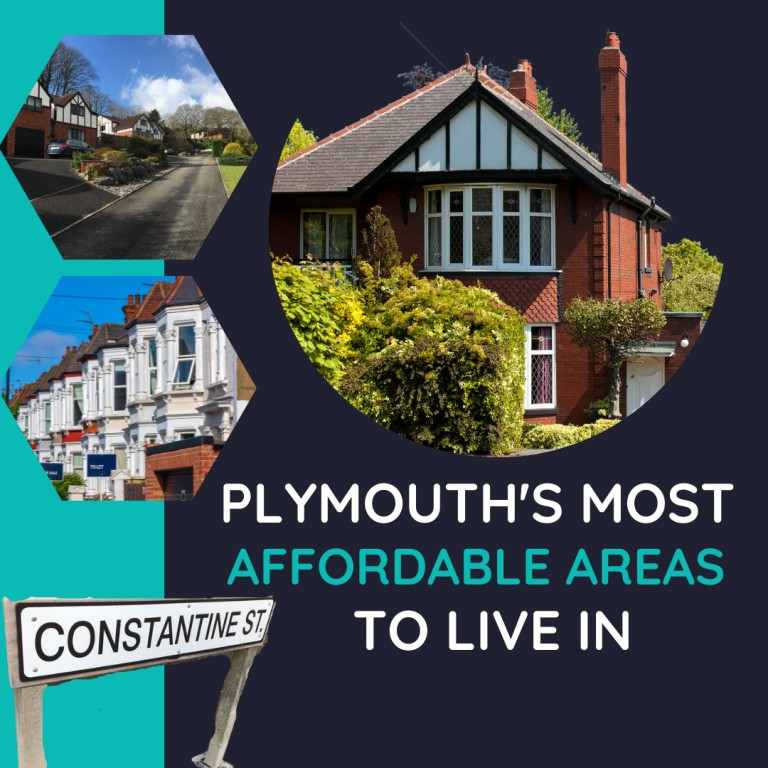 When it comes to affordable housing, it can be super hard to come by nowadays. With the cost of living going up drastically, and mortgage deposits ever-increasing, it may seem like an impossible goal. But if you're searching as an investor or even as a young first-time buyer and are happy renting small to begin with, these areas in Plymouth are a perfect opportunity for affordable first-time buyer deposits. The UK Land Registry can tell you a smorgasbord of housing data, and we have compiled the most affordable places you can live in Plymouth, and here they are:
City Centre
With the average flat prices ranging between £41,250 and £65,000 in this area– and average initial down payment deposits of £4,125 to £6,500– City Centre flats and other properties with sea views nearby and a large student population, this area is one of the top cheapest options for young buyers just starting their property ladder journey!
Keyham
This one may surprise you, as it's so close to the Naval base – with 3 bed properties and huge gardens, averaging around £130,000 – down payment deposits averaging around £7,300 - Keyham's average home prices have decreased more as of recent due to increased crime activity occurring (for more information on updated crime statistics, you can visit GOV. uk) , but nevertheless the homes are in great condition and are beautiful for those looking to invest as landlords, or even as first-time buyers, with Stoke, Devonport and a short drive to the City Centre nearby as well as lots of Naval History associated with the area.
Efford
Efford is a relatively quiet area in Plymouth, but the average house prices are so affordable. This is potentially due to the location pointing North, similarly to Southway – the houses in these areas were built in the 1960's during the Industrialisation era – the suburbanisation after the Blitz in the 1940's. With flat/bungalow prices ranging from £80,00- £120,000 – and average down payments of around £8,000 - there is a great scope for investments in this area, with its property value starting to increase as the popularity of the area slowly increases, now is a good time to buy in Efford.
Compton
Compton is just outside of Plymouth's city centre, and is full of Edwardian build homes, with sturdy architecture and a wide variety of buying options, have very affordable house prices as it is the quieter area of central Plymouth, near lots of residential homes for the elderly, a church and scenic park nearby. Another reason for its great affordability is generally due to the area's Victorian history of exorcisms that often took place in the Compton Methodist Church, with house prices ranging from £60,00 to £130,000 – and initial down payments ranging between £6,000 to £13,000 on average, again, there's a very wide range of choices available for those with varying budgets!
Southway
Similar to the likes of Efford, Southway is in the north of Plymouth, close to Dartmoor. Despite its scenic farmland views for miles, their 3 bed properties are some of the most affordable homes in Plymouth, especially for families looking to buy. Kinnaird crescent has a range of flat blocks ranging from £40,000 – which means only around £4,000 on average for flat deposits and the 3 bed houses ranging from £70,000 – £130,000 – on average around £9,000 for house deposits. What a steal! Most likely one of the furthest areas away from Plymouth's City Centre, Southway homes have a lot to offer for families, elderly people and even young first- time buyers!
Eggbuckland
Last but most certainly not least, Eggbuckland has average home prices of around £100,000 and £200,000 – once again, some huge variety to play around with here! If you are able to save for a house deposit of at least 10K – you could be the next homeowner of up to 4 bed properties in Eggbuckland – perfect for investors who are looking to market towards families – as its not close enough to the city centre to appeal to students.
If you're wondering just how valuable your home is, why not request a Free Valuation check with us today?
By Caitlin Stimpson