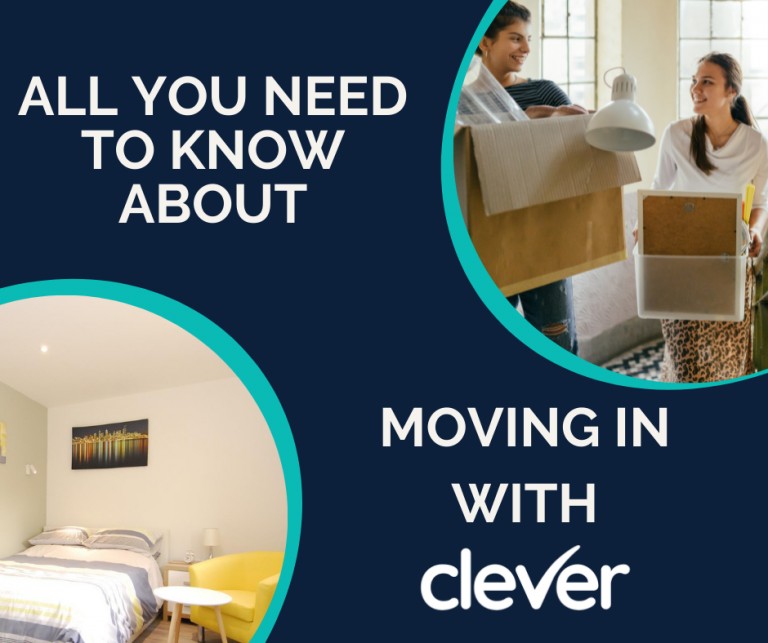 Preparing for moving out for the first time can be daunting – but fear not! We've got you covered. If you're renting with us here at Clever, there are a few things you'll need to make sure you've done before you come to collect your keys.
You may have your bottle of Grey Goose and your fairy lights packed up ready to showcase in your dorm room, you might have even figured out where your lecture halls and where they serve the best on-campus coffee can be found, but have you got the logistics sorted?
If it's just the basics you are struggling with as well, please do not fear. We can accommodate to all kinds of questions you may have about the moving in process.
Here is a general list of tips to help you start packing!
Doing little bits at a time is better than leaving it all until the last day – the last thing you want is to feel overwhelmed, take it one step at a time!

Ditch the heels – when you first start clubbing, its common to 'overdress' yourself. But trust me, everyone at university tend to take a more 'chilled out' aesthetic when it comes to clubbing, so if you're struggling with which shoes to bring – trainers will never let you down!

Never pack the 'essentials' until the day you leave - which include your daily used things I.e., your toothbrush, body sprays, underwear etc as you will need these on hand until the day you go.

Pack the daily essentials in a hand-luggage bag - as it's all there if you need it for a quick freshen up (depending on how long your trip to university will be.)

Don't hesitate to bring the 'unessential' items – remember you'll be living here for three years away minimum depending on the duration of your university course. You will need to make your home-away-from-home as 'homely' as possible. Bring those photo frames, your favourite teddy and that bedside clock you love so much, it'll help you to settle quicker, trust me!
Now moving onto the logistics side of moving out for the first time.
The logistics of any move-in process is always a boring admin-job – but paramount, nonetheless. If you don't get these following things sorted prior to your move, you risk losing your accommodation completely:
Get your guarantor forms signed by yourself and your guarantor.

Getting your guarantor to sign their required forms and upload relevant information

Complete all referencing requests from our admin team.

Bringing a form of identification to our office for scanning on the day of your move in
Once all of these steps are completed, you'll be ready to book your moving-in day slot and getting those long-awaited accommodation keys! This way you will be able to move into your desired accommodation smoothly and get geared up ready for Fresher's Week!
By Caitlin Stimpson