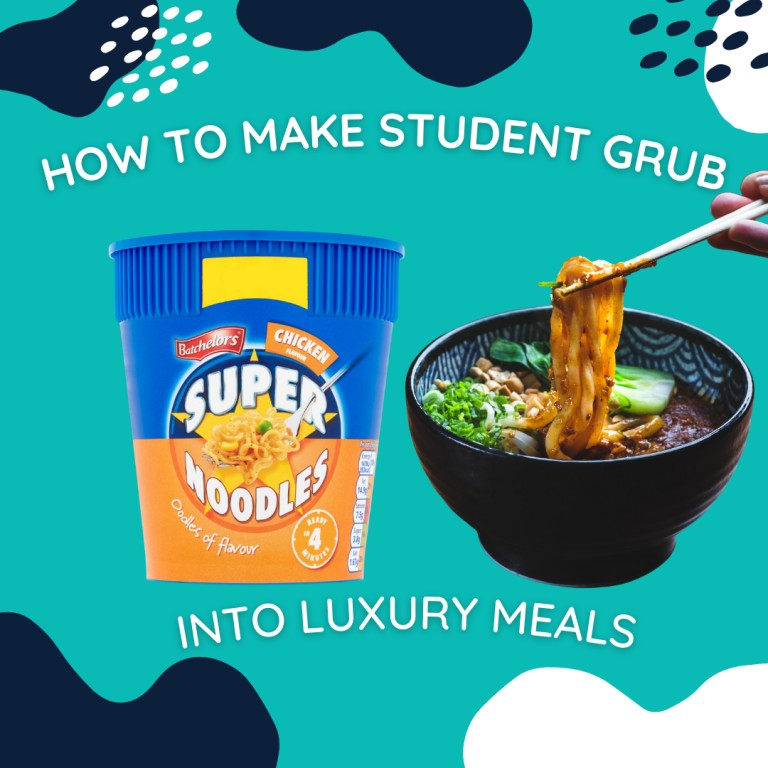 Whether you're a student, currently on a budget, or you just really love noodles! Here you'll find three mouth-watering recipes using quick and easy 'student staples' into something a bit more special - all the while staying within a reasonable budget.
This recipe *luckily* doesn't require much thought, you probably will have most of these ingredients right in your cupboard. To note, the amount required will serve 1 person, so double the amount listed below if you're cooking for a special someone too! Let's get into it. You will need:
Packet of flavoured super noodles of your choice, around 85p in most supermarkets.
Mineral water – to accompany your broth base - 85p
Extra seasonings of your choice (to add to your broth!) -£1
Beansprouts (a handful, roughly) 40p
Spring onion (light garnish) - 85p
Meat/Tofu of your choice - £2.60
Soy Sauce (two tablespoons) - £1.00
Total cost per serving: 50p
This list may seem excessive, but you'd be surprised at what you will find in your house!
Once your noodles have boiled, only drain around 1/3 of the water and start adding your spices and mineral water. Gradually add in your veggies, and eventually your meat/meat substitute, once cooked and sliced. Once you've left this concoction to simmer on medium heat for 10 minutes, allowing meat juices and vegetables to absorb each other's flavourings. To finish off, add your soy sauce and spring onion garnish, and voila. You've got yourself an almost Wagamama-grade bowl of ramen!
Boursin pasta and Garlic Bread
Needing a hangover cure? Or lining your stomach before pre-drinks? We've got you. Do you ever want something a little bit more than cheese pasta? Now, you may have seen the 2021 TikTok craze of baking a block of Boursin garlic and herb Gournay cheese with red onion and a pack of cherry tomatoes, sprinkled with salt and pepper? Yep, that's the one! Here you'll find that recipe, plus a quick whip up of a garlic bread side if you're feeling extra luxurious. You will need:
Cherry tomatoes (a full packet, preferably) £1.20
Pasta (measure with your heart) 60p
Boursin cheese (Garlic and Herbs) £2
A loaf of white Bread 50p
Total cost per serving: 60p
Boil your pasta, as usual. In an oven-proof dish, pour in your cherry tomatoes, chopped red onion, and your block of Boursin. But wait – cut ¼ of the cheese block off and refrigerate. Finally, sprinkle salt and pepper to taste and bake in the oven for 40 mins at 170 C – mix into your cooked and drained pasta after cooking and you have yourself a beautiful dish. Did you forget the garlic bread? No worries, that's what we saved the extra Boursin for, simply spread it like butter onto two slices of bread and leave it to melt under a grill oven for a further 5 minutes. You. Are. Welcome! *Chef's kiss*
This was a staple and a half during my time at university! Working part-time at a pizza shop didn't help the cravings either, but that's besides the point! Your ingredient needs are very minimal for this one. You will need:
A packet of tortilla wraps (large) - £1.00
A bag of mozzarella or a vegan alternative - £1.70
Meat/Veg for toppings - £1.60
Total cost per serving: 60p
Like I said, incredibly minimal, but this quick, cheap and easy pizza recipe is nothing short of Bougie. What I used to do with this recipe, was grab a silicone spatula, and cover a tortilla wrap (flat) in tomato sauce, puree, or pizza sauce. (To be honest, whatever tomato base I had in at the time did the trick!) Sprinkle some mozzarella, measuring to your heart's desire, then adding red peppers, jalapenos and chicken, absolutely divine! Pop this in the oven for around 5-10 minutes (ensuring grill heat is low so your tortillas don't burn) And in ten minutes, you've got a beautiful pizza dish that quite literally looks and tastes identical to a thin-based dominos medium pizza!