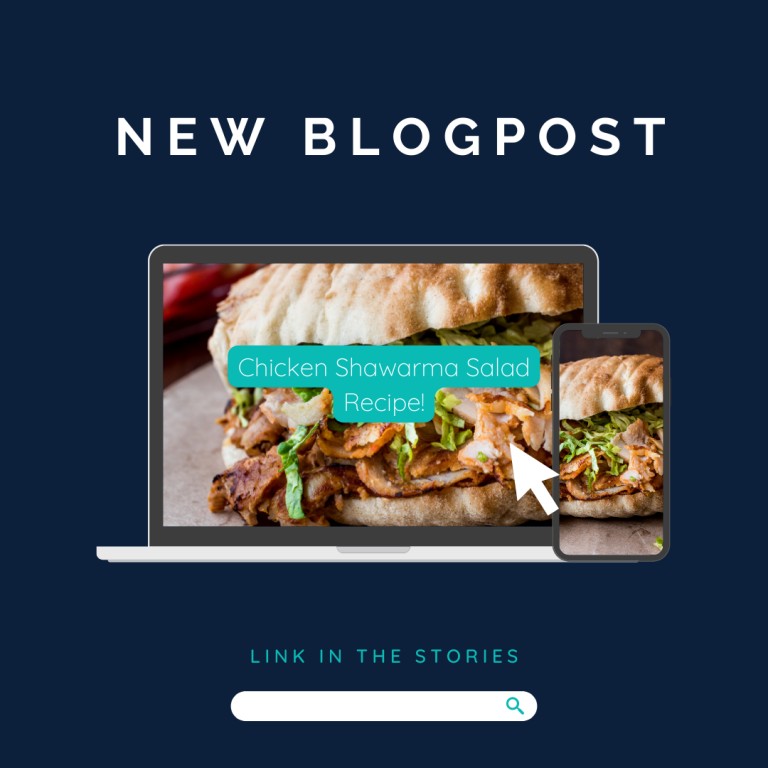 As it hits the summer months, sometimes it can be a fuss to think of things to cook when the weather gets warmer but worry not, because we've found something that's not only pretty easy that fits the summer vibes perfectly. This recipe mixes two things that we love a lot… chicken shawarma and a summery salad.
Read on to see how it's made!
What will you need?
4 garlic cloves, crushed
3 tbsp olive oil
1 lemon, juiced
2 tsp ground cumin
2 tsp ground coriander
2 tsp smoked paprika
½ tsp ground cinnamon
½ tsp chilli powder
1 tsp dried oregano
1 tbsp natural yogurt
4 chicken breasts, bashed with a rolling pin until slightly flattened
pittas or flatbreads and pickled chillies (optional), to serve
For the tahini dressing?
2 tbsp tahini
1 lemon, juiced
200g natural yogurt
1 tsp whole cumin seeds
For the salad?
½ red cabbage (about 500g), finely shredded
2 red onions, finely sliced
1 small cucumber, peeled, halved, de-seeded and sliced
200g cherry tomatoes, halved
1 Little Gem lettuce, chopped
1 lemon, juiced
2 tbsp olive oil
STEP 1
Start by mixing the garlic, olive oil and lemon juice together in a plastic container/bowl. Then, stir in all the spices, oregano, a large pinch of salt and the yogurt, then mix to finally make a 'paste'. Once you've done this, pop the chicken in the mixture and coat it, then cover and marinate for at least 1 hour, or chill it overnight.
STEP 2
To make your dressing, you'll need to mix all the ingredients together in a small bowl, season it, then cover and chill until needed (this can be made up to two days ahead of time). Toss all the salad ingredients, except the lemon juice and olive oil, together. The salad can be assembled between one and two hours ahead of time and simply kept chilled.
STEP 3
Get your BBQ lit, or heat a griddle pan over a high heat. You'll want to cook the marinated chicken for five minutes on each side, or until they're lightly charred and cooked through. Lift them onto a board and set aside.
STEP 4
Drizzle the lemon juice and olive oil over your salad and then season with salt and toss everything together. You can then either scatter the salad over a large platter or tip into a large serving bowl. Slice up the chicken, then arrange it over the scattered salad. Serve with the pre-made tahini dressing on the side or drizzled over, along with toasted flatbreads or pittas for stuffing the chicken into.
There you have it, a flavourful chicken salad idea for these warmer days that is sure to be a hit with any guests you might have 'round! If you end up making this salad, tag us in a picture on socials, we'd love to see it! Whilst you're here, if you're looking for some tips to spruce up your home, look no further than our tips on renter friendly décor.