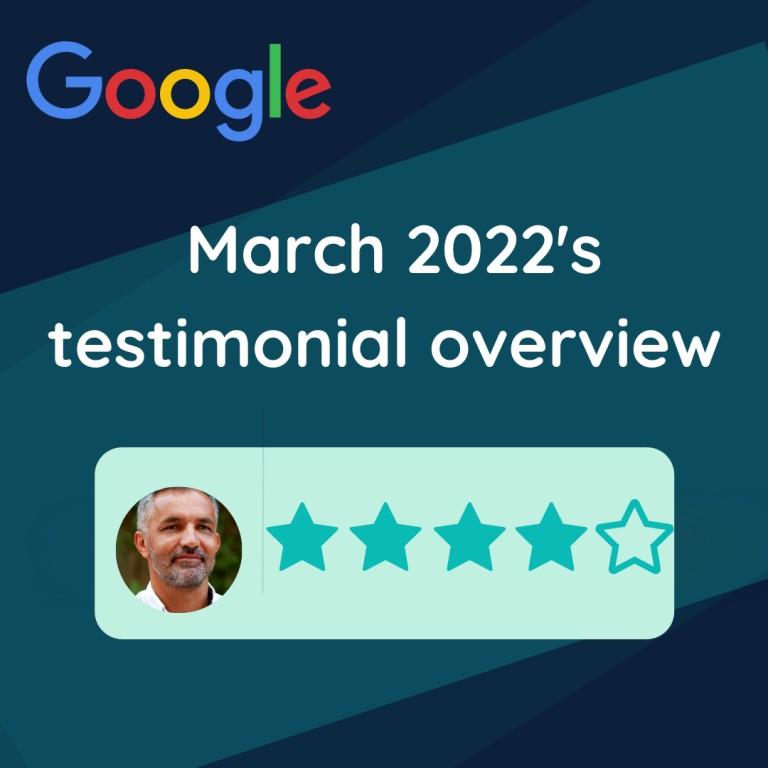 Over this past month, Clever Estate Agents has gone through some major changes. We've got a new team of staff, new brand styles, innovative marketing techniques and a talented team of our latest sales and property negotiators and co-ordinators, and even a new CEO. Clever are going through a major transitional phaseat the moment, and looking back through Google, we thoughtwe'd share some positive feedbackwe've been given – as it reminds us all at Clever why we do what we do, and what we want to do for you!
Check out these heart-warming google reviews below:
Some really nice properties, kind and helpful staff. They managed to get a price reduction for me. (Charlie)
CONNOR. If you need to find a place to live, look no further than CONNOR. He is a very dedicated and lovely salesman - who actually cares about finding you a place that is tailored to your needs. Overall, a 10/10 experience!
Lots of options and really committed to finding somewhere that suits you
Connor was very nice and helpful, making the process a lot less stressful
Highly recommend Clever Estate Agents and more so, Connor! He was extremely helpful throughout the whole process, answering any issues or questions we had and provided us with numerous properties to choose from! Perfect service!
Great booking experience, viewed an array of 1-bed flats, and finally, after months of looking, Connor was able to find the perfect one for me.
Highly recommend booking with Connor and Clever.
Found our house with the help of Alexandra. Really helpful and friendly, would highly recommend.
Ellie was very helpful when I was looking for a property, she answered any questions I had and was very friendly!
Been looking for a house with Charlie's help, nice, polite, approachable guy. Really helpful, found a lovely property for us
I found my viewing experience amazing with Charlie he was lovely to talk to and helped though everything.
Ellie showed us around a few properties and was really helpful and answered all questions when with her in person and when emailing too. She helped us find our home for next year.
Thank You Ellie :)
Ellie was so helpful with our search for our accommodation next year, very friendly service and helped us find a nice apartment perfect for our budget so excited to move into our new apartment next year thank you.
Highly recommend Connor Marshall. Fantastic agent went above and beyond in terms of effort and provided the most support ensuring the whole process went smoothly. He took us to various amounts of properties and he clearly done his research because no question went unanswered. Thank you, Connor and Clever.
<img class="WACImage SCXW30719813 BCX8" src="data:image/png;base64,iVBORw0KGgoAAAANSUhEUgAAACgAAAAoCAYAAACM/rhtAAAAAXNSR0IArs4c6QAAAARnQU1BAACxjwv8YQUAAAAJcEhZcwAADsMAAA7DAcdvqGQAAA5uSURBVFhHrZl7rFxXdcbX2ec5z/t2rn39yDURFwpOSXBL2kouBrWBVrFDTUlRXIpQVcltUhvSh+TyT0TUgqpCkj8SIVVCwRYSlREoVdWKtOYPVEGbFFEICi7OwzexsWPf970zZ85j7/7WnmtDit0U1O2M5s7Mmb2/9a1vfWudSSA/47rnzmO3Z5Hb3264vVkczkWRbEtD1+lLKBeuuNWiKM/byJxxzj5drvdP//3X//Y7m1/9qdZPBfB9dx7bGgb2SBIG9zZi2b2j68RWtdTWSTMOJW2EsjwQef6yk2JQiAsCCQIj1WAgLq/PtLekJ+/+0Nsf+8AHfn9xc8vXXf8ngAcOfKTTjac+4crqqDFWdjZqmRsppBVXsrImkptQ6n4l8Wgm53qpvPjDQgZ1JWGSSMRn+dKKOGtkemdDfvO33y5ZFHzqX7/9wscffPDBavOIGy6z+XzDde+hjx2ezLovyiA/amwh061AWqGVwWIh9dpAJoNSpmOeG6VMNgPJARrUVhIbiCkrsTCpPDigTM90JYRV5+TPf/X2N774z1/+wqHhKTde/yvAP7jryCPvnemd2Dfam9iWFNLtZPKqpPKdeFwu7dkjRe6kERaydVTkzTenMtMppEeK6ziWhDeDopKqAjBpdvzdmuqKMUZsXQPSbg+MPfXUV0781eZx1103TPFHDnz01G/sWjk020VjeSXrAyv9pCPnZJwDnUwHGzK+8ENptkPJxhsSRWwVhXJ2IZanLnYknRqR5fkrsrJcSL7Wl3TLmMzdNia/8JYZaSRGjBNxpF/B883Pv/vue39v8+jXrOsCvOvXjp569y459M7dfQ52wl5iBiXROwmtlTqMPGhwStiK0RmHkDcTwRTXrLyay2ody9m8Lf90VmTjpUXpzE5KeyKV/e/cKeOdlg8yilIAkHKKzIp74s7fOvzhIYIfrXDz+dp6/4EHHi0H5Yf3Ttcyu8VJ1kqoTsTeiCSKI4QfSQzAuBlL1k3964AKjiiKOOPaNJIsDYQql4mwT3CJPPdSzkFWypzgMoplquWDIh4qHRaVJ+fe9rsfPJic+OJXTm9C8es1Gjzw6/d9iMDuV2JbppKI7WPSlgAwa2eAzSRpAqqd8l7qAUd8HvcBQHUbQBv0Fze5DqDdhpFfme5JWQZSc1SNQF/6z1fl8kqONskMzAW2xKYq8JWEEBz/6peeeN8mHL+uATx48OhoGIUPV4jZhMNUCpWo/0KijA1gQqKOAEBqQl6rfgwVG0JAkmQiz87ji1TtIt6Dc0eGQNHmoMm1Yeil0rucy/Pfe1mk7EtlawDW8IE8uNYgE2frh7nsmvSuAUxK+wnsYSxKYoy1Egjgy2xZARS7kAIO8LIIsOzFhjw7DuZa59De5XUJpjoIbiBFCUjVJBdavjPguwEsCRKwmPZ//dtFWevDnLNUNOqj0q0SohwGwc4vf/FzDw1RbQL8nYMf2wHl94WAi6Cjy7sZ6nTqYWoJbOLD31zKWBCwMc82TXnGOlqAzVIpg0hsmBAYgPRzzQEkOVIqBNzYPi69hUouLKBPQDnPHkC0mnVDLqur+s/uf/RkV8/yAMMsOWIQu7JX0rpuGg+lbTE0Ine8JkxPvzcEjFYf2saoFg/KtZti2w3SmkjM5QbQxAVrVlZLqlURoNdqtYfeeB8zjwA2KNQZhr4YOI2iRjqatTJqGHfkRwDFHk4BqIZiy1pGKQYN2JFepd9rAy5eQyMRc4oElKIhsMDw6Bdi1gsJ13gmAFXHpXV8Egcgh5o+KZc2JJ5sSJqhZV7XauRsZ5GAlpKtBmKqXGaTjcN6jDly/0N3mDDc4SiIGq9TttbB3bOhDIjO60RpR0+aAS7gwRsUknqfPmQtl/jMqxL8x0Upnz4v4Sur4qjYAJ2eW1KiYQcb8rokqHTE4IUJhBUAc7CtWcIFqlIiqrkVWdneTd76hc999k2m3Bi8SyvSQbfVBxevaNcA8ICCULOplUHQWdLidadpIHrLhvWFSyKra1KNtER2T0h624zYLR0Ogw0q/lsvVLRDdKlxAcZCwi23bpEUnwworpo9CN1PRYUSUQNY94YoOH+XgbW95eq6jy7GGkJ8LOjXslBlsJj4i51Wo3+gF9UT11mY9WmfnhBEK3YskUEnlgJmajqGxeAvrMRy7gqWBWua8hCrQekyOs4ZauxUW11r1nAC7U6QgqBItFYoUnR2r8HY56IMv5psSdptevNVYb9cosOcPqw6VJBXkwtAEstf6E91CCsQIQ5fqjH0KtV2x8do81++V0pzlKDUYnhtIaHKSxlskFrdV4uPPXw1e6C1lDhHhRN4Fst6zgRVOZNQFLo2FlcwaaJNQplfDeRKn2gUJBtrRfrl0w1cn2UDKwmsp3SRlsSkOcwyb74/WEjl9A/QFLGoffmYAMnZcv65y6gf+ZS590dsZUgEWQl4hPyriHIhr2cMFtNhSiYCUgELBZWoxrS8VMj8mpEcI67RpEavohYf6VA36tgE6q+n0Kh2htSwkktVWz7zTZFOg2ABogF57bJ3yMh2ab6WeaqnVs9U5Hyug7DLBzLgwvkikYUNxwQVdIz21YqKLfAonzZAqtUUOsthWgMFt74OkznYdLynkNSEPYuwincFtC3bW/Gff+t5Kx9/svCMe43i0movnE+7I515Iel4Kt/9/jrTeInvYi/aj3kO6f/LVSrPbUTyylJfejiBKXrlmoU9ZUBLLSTFTps/WZlpU/qlFfbkcIRM6nxqCcUCTAFUMjxkdaWST/9DIQ89hfixCXXVEAkoOG09GACDBEyjU0ebywF38cKKFKS2TzuMOTvi2o2aYoIYX8V1vWYAd94qAoojpYJTKjRpJoxLPGPeSYJY+aJOHhqAT5eyBwAVd6XD7Gou/z4fyXeXjEx1aXk6giku9tDlO4UWkkklpes4XjcmmnLh7KKsLq77jBC6rJGYC8gjJHjtPmFoziuDZ2KiUg1oRVEf0srYmMiurNOKmO0ixigNIGC0GopOs0tF0gproq/xUS0h5OZXQEaimIrGVwP2UYtR5plCpFIdQkSjm1H5Ta91KPBZ0B4f61DM92Pue+IkOEMrtM9oV0hBFqY0vUHNGB9LO3UMJgFDaMwtJV9iTA/YWAvC+yJ6UtCaNsWVYC8kD6a4js8sPqfmr4Xk0KZFItrr7VrPxzi4uCRa3HmPdOPQCtJqN2MvlQ53sJKG5hkTW3e6wYBpdSTiiwERNJnfOkSg7U+lqbajgyiOK47uYJGBGqsatgK2ANXh4qbJVAnUUvOu4K/XCtUSBnSMnbVmJgga3+VWIeMMHRpC7EY1C7dC05TRsOQvslDb0+bxv/v0N/OFtZeHG5EoimKq7WQEt29hGRUgHeCcVqACI3V6ME0VpoagtWVNcK/8850BKQKgTil4W6Sdg31VNhm6jvnDLaxIhypuY+A758blFu6VJzu85j5lDEeZzWrpSl+68eDZ48f/5Pvq+VhE7ySmhAWUwiQv5UYuWzlwZsuwJRnt1epnXn9cR492Si0vdZ5TiWS0uO1dJztH9U5NmUceSjKI1XIaE/TnlR6ZcDJ585jccsuE7JrMuD9pSwdwLa6bQPu/PL4he2caMj3SOKnYPEDTdI/7e1U9n12XruSynZlwugkjIyCGPe9lABsWiVqBGrfqZqgfBbN13Mq+iZ7MdtW0mVrQdAbDKa0T10XbIrfu2yVv2ZnJbEdkHM/t0IEybhcSOlKsZo9kGmlSTQXyuGLjRJFnnn1m9dDbbp1csekvFhu1t5lOOJDd73gTegSQ/kc6gaSXQ5tajE4gTB5aCF7Zw4GgSfeYaeRyE/PweMfIyEQiY2+elDcC6o53bJGtI5FMNp109LccqsTf42h79QTo/Q23Fc598rZ7/ugf9Silw6+vfebo6Dee