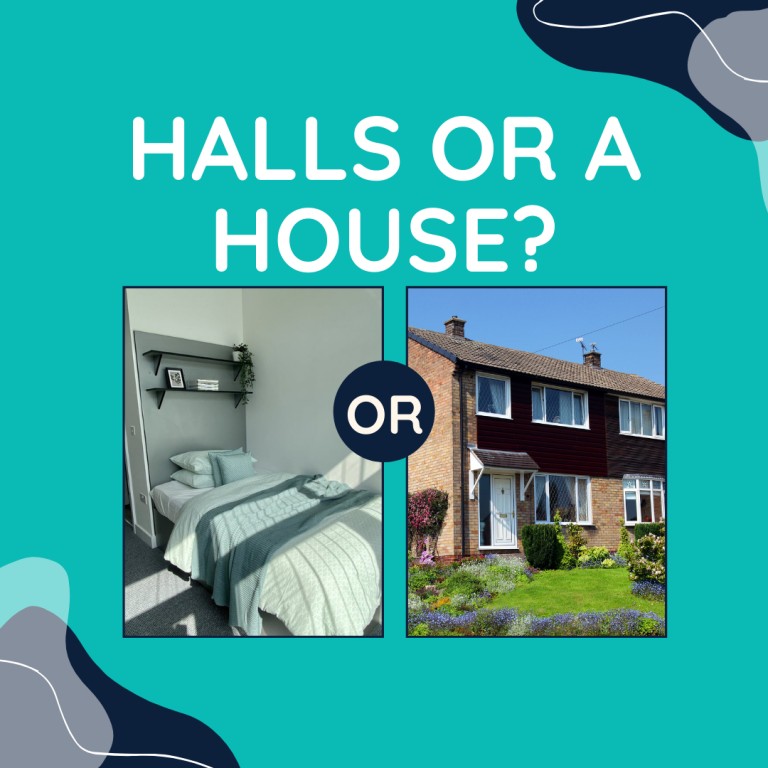 Firstly, I think it's important to ask yourself simple questions. By covering the easier bases, you can move on to the nitty-gritty and come to a full-rounded conclusion. For instance, if you are going to university- or if you're already in university and are struggling on knowing what type of accommodation is best, ask yourself:
Am I an introvert - Will I want my alone time a lot, watching films and settling down with a cuppa early for my morning lecture?

Or am I an extrovert? - or do I want to go out there, make friends, join socials, and party like there's no tomorrow?
If your answer is A, you're likely going to fit in best with a privately rented house share option in a more suburban area (or studio) if you're dead set on living alone.
If your answer is B – you're not afraid of a bit of dirt and sticky vodka shots across your dining table. You'll fit in just fine in a hall setting, with a group of like-minded party animals.
Secondly, ask yourself:
A. Do I want to pay my rent termly?
B. Do I want my rent/bills to be in bitesize monthly chunks?
Now, most landlords are generally understanding of student finance times as well as being flexible with payment methods – but the big difference between halls and private renting is that with halls, you can pay your rent/bills termly and all in one block, leaving whatever remains of student finance you've got left to budget the rest of your month. Food, nights out, etc. Whereas with privately renting, you'll generally have a set rent price per month, sometimes with bills included, and other times bills excluded.
If you said yes to answer A - wanting to pay rent and bills termly, halls might be a good option for you, as you'll have it all paid off, and you'll have no housing costs to worry about for the entire term, which would also help you to budget well if you're not already good at doing so.
If you said yes to the answer was B - then privately renting would suit your options much better, with the common way of paying rent being and if you'd prefer a smaller, more bite-sized, and less scary amount of money coming out all at once. It's also a good way to practice for when you're no longer a student, as monthly rent will be the norm with no exceptions in the non-student world!
Another thing that's worth asking yourself is:
Is it essential for you to have access to a garden and/or parking?

can you live without these amenities?
If your answer was yes to A – private renting all the way. Halls of residence don't have gardens as they are usually a block of flats, and they don't typically have parking, and if they do – it will cost you a bomb!
If you answered yes to B – halls of residence are your vibe! With bus stops nearby and no real need for a garden as a student anyway, it is less maintenance for you or your landlord or agency to deal with, score!
When it comes to other general amenities, it's paramount to consider what you're comfortably skimping on and what you're happy to go out for. One major thing loads of students can probably relate to is the access to washing machines. Again, folks, it is time to ask yourself:
Are you happy using public laundrettes?

Does the idea of public laundrettes despise you?
If you answered yes to A – You'll have no problems with living in Halls of Residence. Usually, you'll have a local laundrette nearby your accommodation in which you pay in credits, for example, you can top up your washing machine balance with ten pounds which might last you two or three washes. As you can imagine, over time this will be quite expensive – as is any public laundrettes – but if this does not worry you, then go for it!
If you answered yes to B – Try to prioritize finding a privately rented house with a washing machine, as it will be more financially and hygienically sustainable for you.
But whatever you decide to go for, there's a home for everyone at Stay Clever! And these are some important things to consider when looking to buy, rent, and even when selling your home yourself. Put yourself in your tenents shoes!
If you'd like to see our free valuation system, take a look on our stay clever website.
By Caitlin Stimpson