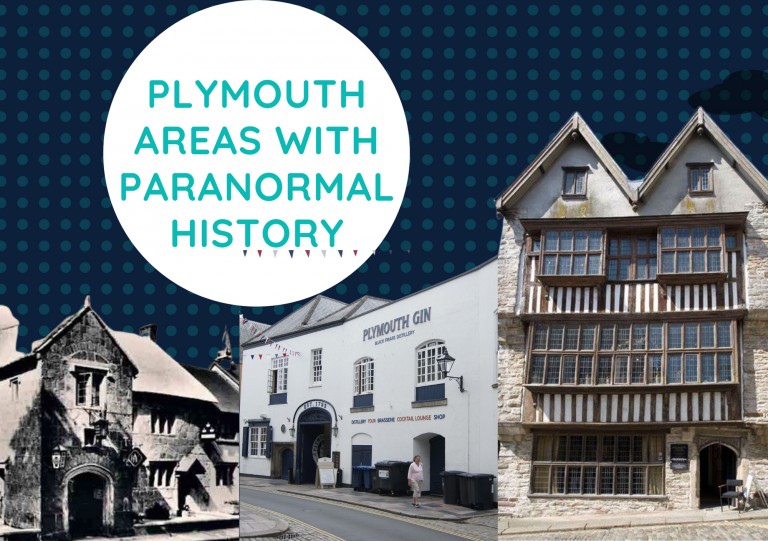 Plymouth has a history, wide and long. Before it was called Plymouth, it was called Sutton, (meaning south town in Old English) and was split into many parts. It's no wonder Plymouth has such a history of paranormal activity, as many of the buildings have been here since the 1400's! If you're a believer of the paranormal, you've likely clicked on this blogpost looking for some spooky details. Here you'll find some of Plymouth's most haunted places, (or so people claim) with some interesting, and some unsettling history behind some of it. (Trigger warning: themes and descriptions of death appear throughout).
Enjoy, you thrill-seeking readers!
Plymouth's Devil point
Located on the Eastern side mouth of the River Tamar, nowadays used as a common picnic spot and dog-walking area, with miles of grass and a coastline look-out, adored by many locals - not only does it have huge military history, but it also has been claimed to be the spot where Sir Francis Drake himself, employed an entire coven of witches to summon a storm in the attempt to destroy the Spanish Armada. To this day in 2022, locals and tourists claim to hear their incantations.
Elizabethan house
This wonderful house of history, which for a very long time has been quietly perched on the Barbican's cobbled streets looking very elegant and vintage, offering the most exquisite tours for tourists. The Elizabethan House can be traced back to 1584 and is an old captain's dwelling. People have commonly reported seeing a young female figure in the windows of the first floor. An infamous story that tends to float around the internet refers to an archaeologist in October of the year 1983, who came by one evening to set up an evening lecture – and to his surprise, he ended up finding a rocking chair in the house rocking freely and didn't stop doing so when his students showed up for the lecture! Safe to say, they were very stunned and any laughter or light-hearted nature that was in the room completely came to a halt.
Royal William Yard
Royal William Yard was not always what it once was – now a beautiful yard filled with expensive restaurants, and even claimed as one of the most common places people get proposed to in Plymouth in 2022, its history was a little less glamorous. With the construction of Royal William yard having been completed in 1826, nearby was an (Discussion of animal death trigger warning) old slaughterhouse of which cattle were taken to accept their fate. As relatively common and non-eerie as this story sounds, people often still report hearing the sounds of distressed cows and the sounds of hooves clunking in Royal William Yard to this day, and surely not everyone knows the history behind this? Very strange indeed!
Dartmoor's Hairy Hand
Dartmoor is one of Plymouth's finest sights, such a quiet place, with acres upon acres of farmland and cattle that freely roam their homes.
The beautiful Dartmoor diner and Yelverton that bookends the beautiful landscape of grass, trees, golf courses and rocks also have an old Jail there, which is still in use today. There are many legends of Dartmoor, as many people go there to camp. (Which we highly recommend, by the way). With streams of clear water rivers and natures free kindling, you can sit by a campfire with your friends and family and enjoy the scenery respectfully.
But once again, with a huge history comes a huge number of lost souls and paranormal experiences. Many people have their own stories from visiting Dartmoor, but one of the biggest legends out there, is by far the legend of the Hairy Hand. The hand that has caused chaos between people and their sanity. People have claimed to see apparitions of a Man's had on their car windows, steering them off the road, and even appearing behind bushes. Beware of the hairy hand! (Bet that's not a sentence you were expecting to hear today).
Plymouth Gin Distillery
What was once the Black Friars distillery in 1793, is now a popular gin-tour day out experience and has been since 2005. This building was rumoured to have been a monastery in the 1400's also. So there's a fair amount of history behind this building as it's an incredibly old one. But whenever people have visited, many locals and even psychic mediums have claimed to pick up on sights of ghosts within the distillery. Including specifically, encounters with a woman, a child, a man with burns all across his face and body, and an ill-looking man in the still room. Rumour has it, (description of violent death trigger warning) numerous murders occurred in the still room in the 1500's, and there have even been instances of people having apparitions of a woman being stabbed to her death in the ladies' toilets.
If you're a ghost-story lover, I hope you enjoyed these skin-crawling historical stories about some of Plymouth's most haunted areas. If you want to look at the history of your home, or if you just want to see how much its worth, as it's probably been around for longer than you'd believe! Then, check our free valuation system here. For more tips about places to visit in Plymouth (haunted or not) check out our blogpost here about Weekend day trips in Plymouth.
By Caitlin Stimpson