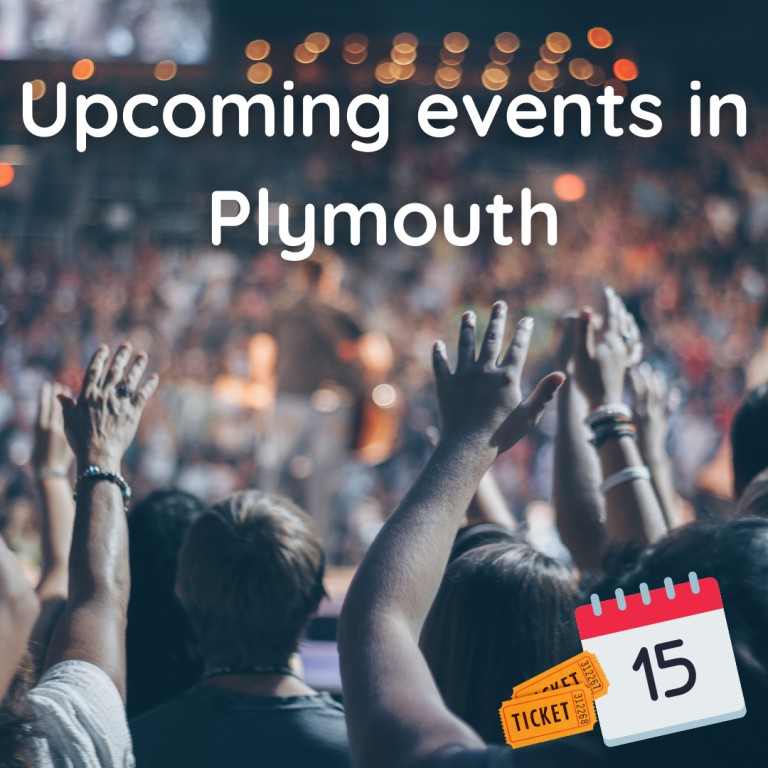 If you're looking for some inspiration on what to do in Plymouth, then look no further! We're here to provide you with all the upcoming events and get you excited to start planning your calendar for the remainder of the year!
March
25th March – 8th April:
Northern Lights Dome Experience @ Market Hall
'Enjoy a breath-taking 360-degree view of the Northern Lights as you travel straight into the heart of the boreal forest. This 360-degree breath taking show creates a visual environment in full symbiosis with Roman Zavada's piano compositions and the Northern Lights.'
Saturday 26th March:
Manor Street Market - Manor Street
Sunday 27th March:
Mother's Day afternoon Tea @ The Box
April
12th April – (then the second Tuesday of every month thereafter):
Gentle Yoga @ National Marine Aquarium
Wednesday 13th April:
The secret life of the Aquarium @ National Marine Aquarium
'Discover the fascinating world of animal husbandry in our latest Aquarium Lates sessions. Our Aquarium biologists will be exploring the amazing things they do to help care for over 4,000 animals here at the National Marine Aquarium.'
2nd April – 11th September:
Maurizio Anzeri – On The Move @ The Box
'View a varied series of works by Italian artist Maurizio Anzeri presented in four different locations over the next six months.'
Monday 11th April:
5 Seconds of Summer @ Plymouth Pavilions
Thursday 14th April:
RuPaul's Drag Race UK: Series 2 Tour @ Plymouth Pavilions
Sunday 17th April:
Bastille @ Plymouth Pavilions
Saturday 23rd April:
Men's Day Out
'Loads of banter with your mates, a pasty and a beer, plus a cracking rugby match at the end!'
Saturday 30th April:
Tavistock Food Festival
May
3rd May – 7th May:
School Of Rock @ Theatre Royal
7th – 8th May:
Native Makers Market @ Royal William Yard
'Native Makers is back for a 2 day spring market in the iconic Melville Building in Royal William Yard. Over 50 quality makers, kid crafts, creative workshops and much more!'
Friday 13th May:
Charity Quiz Night @ Plymouth Argyle
'Raising vital funds for Dartmoor Zoo. Join us for a fun filled evening of quizzing with top team prizes, raffle and food.'
27th – 29th May:
Flavour Fest @ Armada Way
June
24th May – 11th June:
Les Misérables @ Theatre Royal
2nd June – 4th June:
1 Big Summer @ Plymouth Hoe
14th June – 18th June:
Chicago @ Theatre Royal
21st – 25th June:
Macbeth @ Theatre Royal
July
Tuesday 26th July:
James Arthur @ Plymouth Pavilions
August
Friday 5th August:
Kevin Bridges @ Plymouth Pavilions
17th – 18th August:
Firework Championships @ Plymouth Hoe
15th August – 20th August:
Singing In The Rain @ Theatre Royal
September
17th – 18th September:
Seafood Festival @ Plymouth Barbican
27th September – 1st October:
The Colour Purple @ Theatre Royal
Friday 30th September:
RuPaul's Drag Race UK: Series 3 Tour @ Plymouth Pavilions
October
Friday 14th October:
Speakeasy Murder Mystery @ Borringdon Park Golf Club
Saturday 29th October:
Halloween Boat Party @ Plymouth Boat Trips
November
Friday 4th November:
Jon Richardson @ Plymouth Pavilions
Saturday 5th November:
Bonfire Night @ Plymouth Hoe
Thursday 10th November:
Jimmy Carr @ Plymouth Pavilions
As always, there will of course be plenty of December events to get you excited about Christmas, so as and when they're shared, we will update accordingly!
If in the meantime you fancy taking in some sights rather than attending an event, why not check out our blog on The best day trips local to Plymouth for some inspiration!
By Emma Thomas