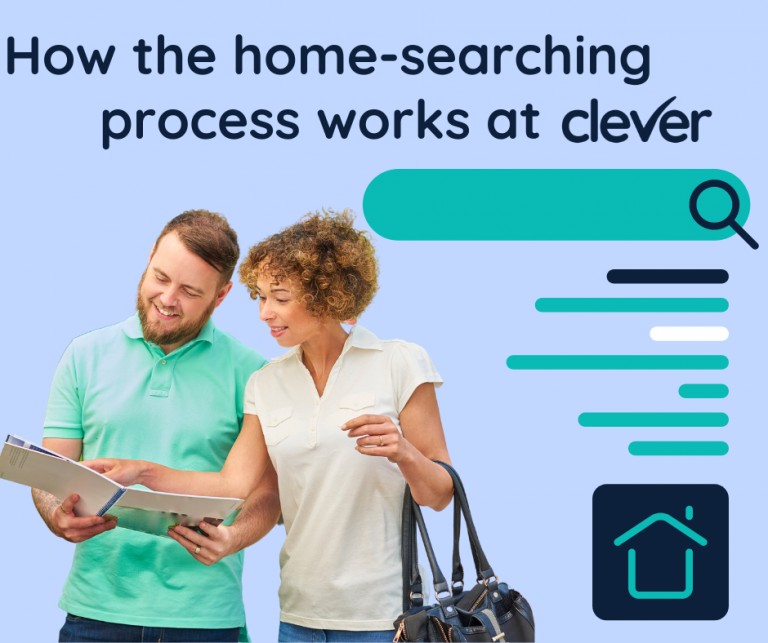 House hunting can be challenging at the best of times and knowing where to start can be even more tricky. Luckily, with Clever, we make the searching and moving in process as simple as possible.
Statistics consistently have shown (since 2015) that moving homes is up there with one of the most stressful events to ever happen in your life. British energy company E.ON conducted a survey of 2,000 people, and six out of ten people cited moving as the most stressful life event with divorce or a separation coming in second. This may seem unbelievable, but the stats do not lie.
Let us talk you through the general steps of what to do when you're ready to start booking in viewings, and how the moving in process goes on from there if you want to make an offer! This is a detailed step-by-step guide for both renters and buyers, as there are obviously more steps involved for buyers, this will be separated into a five step points for renters and an eight step points for buyers:
The Renter's Guide
1. Book your viewing by messaging/calling us at Clever Estate Agents.
By giving Clever a call on 01752 500 511 for student lettings or 01752 421911 for residential enquiries – and you can request a booking with us. Alternatively, you can send us an email at lettings@stayclever.co.uk or message us via the SpareRoom web browser or app if you like what you see!
2. Ensure you have a month's rent plus deposit saved up.
Once you've got your money saved up, start booking yourself in for viewings, as then we are far more likely to consider you taking the process seriously!
3. Confirm your interest in the home you have viewed.
Get confirmation from your agency that you are interested and ready to pay upfront, let your agents know as soon as possible to confirm your tenancy.
4. Put your deposit down instantly (as it is a competitive field).
Securing that deposit means the home is yours! Doing this means you can swiftly move on to the next stage of signing the papers and collecting your keys, which at Clever only takes around 10 days to fully compete the signing/moving in process (if you've requested to move in ASAP and we have the availability).
5. Collect your keys and sign your tenancy and guarantor agreement.
This is the relieving and final step of your renting home-searching journey, well done, you did it! Get those keys, show your guarantor's details for security, read through and sign your tenancy agreement! When broken down into smaller lists, these processes are far less daunting. Now moving onto the Buyer's guide to the home-searching process:
The Buyer's Guide
1. Assess your finances.
Get a feel for what your down payment deposit budget is looking like and shop around accordingly!
2. Find a mortgage to suit you.
Whether you're buying as a residential owner or as an investment, look at whether buy to let mortgage or a fixed-rate mortgage!
3. The Approval stage.
Once you're in contact with your agent, you should be in the process of getting pre-qualified and getting pre-approved for your mortgage.
4. Book your viewing by messaging/calling your chosen agency.
By giving Clever a call on 01752 421911 – you can request a booking with us. Alternatively, you can send us an email at ian@stayclever.co.uk or message us via Rightmove or Zoopla, or alternatively, if you're looking for a home valuation, look no further.
5. Make your offer.
Get your offer in quickly- as similar to renting and putting your rental deposit down, there's always competition on a first come, first serve basis, so be decisive!
6. Shop around for home-owner's insurance.
A quick google of comparethemarket can give you all the pros and cons, the good and the bad insurance services for you and your homeowner's needs.
7. Review your sale and complete your mortgage application.
Get those papers signed, all the legal documents out of the way and get ready for closing day!
8. Closing Day.
Once closing day has arrived, you're home searching journey is complete, go you!
Now you've become a homeowner or have finalised a successful tenancy – why not celebrate with some of Plymouth's go-to cocktail bars?
By Caitlin Stimpson